The 12G Automatic is a Codex Entry featured in Battlefield 1. It is unlocked upon obtaining ten kills with the 12g Automatic.
Transcript
Edit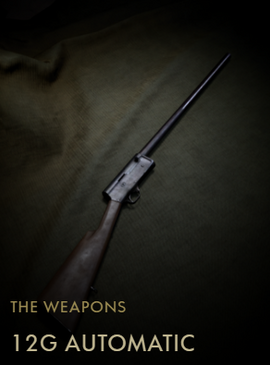 Popularly called the "Humpback" due to the distinctive design of the receiver, this semi-automatic shotgun used a long recoil mechanism which was more commonly featured on automatic cannons.
An American design from 1898, it was the first mass-produced semi-automatic shotgun in the World. Versions of it were manufactured in the US and Belgium, and it was used as a trench clearing gun during WW1 alongside the more traditional pump-action shotguns. The 12G was a reliable, robust weapon which was produced from 1902 all the way up until the year 2000, and it has seen worldwide use by military, law enforcement and sports shooters.
The Codex picture of 12G Automatic has no handguard or tube magazine.
Ad blocker interference detected!
Wikia is a free-to-use site that makes money from advertising. We have a modified experience for viewers using ad blockers

Wikia is not accessible if you've made further modifications. Remove the custom ad blocker rule(s) and the page will load as expected.