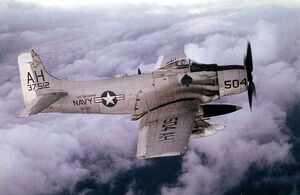 The
Douglas A-1 Skyraider
was an American single-seat attack aircraft that saw service between the late 1940s and early 1980s. It was armed with 4 20mm autocannons and could carry 8000 pounds of external ordanance including bombs, unguided rockets, mines and torpedoes. It appears in
Battlefield Vietnam
.
Battlefield Vietnam
Edit
The A-1 Skyraider in Battlefield Vietnam is operated by the United States Army. It is similar to the A-7 Corsair II and the North Vietnamese MiG-17 Fresco. It is equipped with 4 autocannons and 4 unguided bombs.
Although much slower than other aircraft, the A1 can make tighter turns and can stay aloft at much slower speeds. Oddly, it seems to be able to climb higher than the jets and can maintain a steady climb without stalling. The A1, unlike most other vehicles, has two variants: A 20mm cannon and napalm variant, and a rocket and standard bomb variant.
Appearances
Edit
Ad blocker interference detected!
Wikia is a free-to-use site that makes money from advertising. We have a modified experience for viewers using ad blockers

Wikia is not accessible if you've made further modifications. Remove the custom ad blocker rule(s) and the page will load as expected.