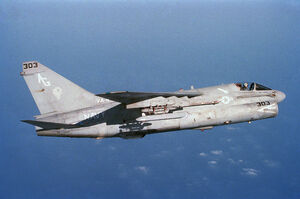 The Ling-Temco-Vought A-7 Corsair II is a carrier-based subsonic light attack aircraft introduced to replace the United States Navy's Douglas A-4 Skyhawk, initially entering service during the Vietnam War.
Battlefield Vietnam
Edit
A-7 Corsair II
Main weapon
M61 Vulcan
Main weapon ammunition per reload
800
Secondary weapon
Mark 82 bombs
Secondary weapon ammunition per reload
2
Operators
*United States of America
In Battlefield Vietnam, the A-7 Corsair II is a light attack aircraft of the United States of America and South Vietnam. It is equipped with autocannons and Mk-82 bombs.
Appearances
Edit
Operators
Edit
The A-7's tail wing has markings that belong to the USS Ranger.
Ad blocker interference detected!
Wikia is a free-to-use site that makes money from advertising. We have a modified experience for viewers using ad blockers

Wikia is not accessible if you've made further modifications. Remove the custom ad blocker rule(s) and the page will load as expected.