AAV-7A1 AMTRAC
Talk

0
1,958pages on
this wiki
Redirected from AAV-7A1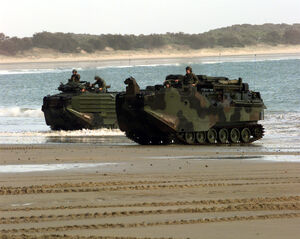 The AAV-7A1 AMTRAC, better known as the Amphibious Assault Vehicle, or simply AAV, is a tracked armored personnel carrier used by the United States Marine Corps and it is built by US Combat Systems, a subset of BAE Systems Land & Armaments. "AMTRAC" is a contraction of "amphibious tractor." The AAV has been in service with the United States Marine Corps since 1972 and is used by ten nations worldwide since its introduction.
The vehicle is capable of being launched from the sea by amphibious dock ships to bring assault elements quickly to the shore as well as provide combat support with a mounted Mk 19 grenade launcher or M242 Bushmaster cannon and the M2 Browning HMG.
Battlefield 3
Edit
"The AAV-7A1 is the current amphibious troop transport of the United States Marine Corps."
— Battlelog description
Singleplayer
Edit
The AAV-7A1 AMTRAC appears in the mission Thunder Run, dropping off marines as M1A2 Abrams tanks move through the PLR artillery camp, as well as in Rock and a Hard Place, as part of the Marine convoy.
Multiplayer
Edit
AAV-7A1 AMTRAC
Vehicle health

1150

Disable threshold

50%

Vehicle passengers

Driver
Gunner
4 passengers
(6 total)

Vehicle armor

Reactive Armor (front, sides only)

Vehicle optics
Special feature(s)

• Mobile spawn point
• Amphibious
• Cannot be stolen by Russian troops

2nd passenger weapon

Mk 19 40mm automatic grenade launcher

2nd passenger weapon fire mode

Automatic, magazine-fed

2nd passenger weapon ammunition per reload

9

2nd passenger alternative weapon
Countermeasures
Operators

United States Marine Corps
The AAV-7A1 AMTRAC is used by the US forces in the maps Kharg Island, Tehran Highway, Gulf of Oman, Alborz Mountains and Bandar Desert in Rush, and Noshahr Canals and Wake Island in Conquest as well as Rush.
It is armed with a Mk 19 grenade launcher and a 7.62 Caliber M240C in a commander's turret.  The turret also has a 3x zoom capability, and the driver has the ability to deploy IR smoke by pressing the gadget button. The AMTRAC can seat a driver, gunner and four other passengers who sit in the rear compartment, unable to use their equipment. The AAV-7A1 AMTRAC is considerably slower when it is traveling in water.
Though not explicitly shown on the HUD or otherwise mentioned in-game, the AMTRAC has Reactive Armor on the front and sides (but not the rear), allowing it to withstand initial direct hits. Otherwise, it takes damage similar to IFVs, with a minimum angle of 50°.
For scoring purposes, the AMTRAC is classified as a transport, and does not receive any specializations. However, it is very important since it serves as a mobile spawn point. Any US players can spawn in it provided there is an empty seat, even if there are no squad members inside.
The AMTRAC cannot be stolen by Russian troops, unlike the UH-1Y Venom.
External links
Edit