AWS
Talk

0
2,195pages on
this wiki

This article is a stub. It is short and in need of expansion. Why not help out?
This article is currently under construction. It may contain little or inaccurate information.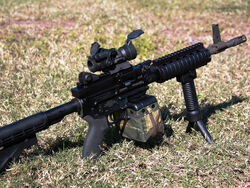 The
Ares Defense Shrike 5.56
is an air-cooled, dual-feed
light machine gun
that fires the 5.56x45mm NATO cartridge.
Battlefield 4
Edit
The AWS is an LMG introduced in the Battlefield 4: Naval Strike expansion. It is unlocked upon completion of the Swiss Cheese assignment. It has a high rate-of-fire, low recoil and average damage, with a capacity of 99+1 rounds.