Anti-Tank
Talk

0
1,934pages on
this wiki

The Anti-Tank kit is one of usable kits in the games Battlefield 1942 and Battlefield 2. Its main role is to destroy armored vehicles such as tanks from long range. The kit also appears in Battlefield 4 as the Anti-Tank Upgrade Path for the Engineer Kit. It gives players a play style similar to the Anti-Tank kit.
Battlefield 1942
Edit
Anti-Tank
Primary weapon

Bazooka (Allied powers)
Panzershreck (Axis powers)

Secondary weapon
Equipment one
Equipment two
Starting health

30
The Anti-Tank is one of the five kits featured in Battlefield 1942. They are armed with a rocket launcher, pistol (depending on the faction at hand), grenades and a knife. The rocket launcher can destroy medium tanks in three shots or less. It's ill-advised to take on anti-infantry duties due to the launcher's small splash radius.
Battlefield 2
Edit
Anti-Tank
Primary weapon

MP5 (USMC, US Navy SEALS and SAS)
PP-19 (MEC, Rebel Forces, Insurgent Forces, Spetsnaz and MECSF)
Type 85 (PLA)
DAO-12 (Tier 1 unlock)
P90 (Tier 2 unlock/ EU)

Secondary weapon

M9 (USMC and EU)
QSZ-92 (PLA)
MR-444 (MEC, Rebel Forces, Insurgent Forces, Spetsnaz and MECSF)

Gadget one

SRAW (USMC and EU)
ERYX (PLA, MEC, MECSF and Spetsnaz)
RPG-7 (Rebel Forces, Insurgent Forces)

Equipment one
Starting health

100% (standard)
133% (With Body Armor)
"Heavy soldier equipped to take out vehicles at long-range"
— In game description.
The Anti-Tank kit is featured in Battlefield 2, again armed with faction specific missile launchers, but the kit now also wields SMGs, along with the DAO-12, as their primary weapons to deal with infantry. Both the SRAW and ERYX can guide their missiles mid-flight, allowing the class to better deal with moving targets.
Due to the class being made to primarily deal with vehicles, the class is not very effective against foot soldiers, as the SMGs used by the class have a short range and are fairly weak, taking 8 shots to kill armored opponents and 5 to kill unarmored opponent. This requires the Anti-Tank kit to keep engagements up close and to rely on his teammates to deal with infantry while he focuses on eliminating hostile armor.
Inventory
Edit
Combat Knife
Army's standard pistol (varies by team)
Sub-Machine Guns or a Shotgun (varies by team as well)
Guided Anti-Tank Missile Launcher + Missiles (also varies by team)
Character Models
Battlefield Online
Edit
This section is currently under construction. It may contain little or inaccurate information.
Rocket Soldier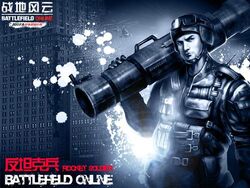 The Anti-Tank kit is featured in Battlefield Online.
References
Edit