Assault Rifle
Talk

5
1,693pages on
this wiki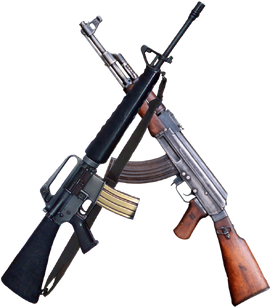 An assault rifle is a rifle capable of automatic fire that fires an intermediate cartridge from a detachable box magazine.
Its cartridge falls in between the low power pistol ammunition used in pistols and submachine guns, and high power rifle ammunition used in battle rifles and many sniper rifles. This intermediate round allows for a more controllable recoil in fully and semi-automatic than a full-power rifle round while still maintaining an effective range of several hundred meters.
Assault rifles are meant to be lightweight and though they are selective-fire weapons with large magazines, they do not have the thermal mass, cooling ability, or ammunition capacity to sustain a high volume of fire like a machine gun.
In the Battlefield Series
Edit
The assault rifle has been featured in most games in the Battlefield Series. Most of the time the assault rifle is a part of the Assault Kit, however carbine variants of assault rifles are issued to the Engineer kit while sniper variants are issued to the Recon kit. Depending on the game, battle rifles may be included in the kit.
Assault Rifles of Battlefield 1942

Assault Kit
There is only one assault rifle in Battlefield 1942, the StG 44 though the M1918 Browning Automatic Rifle is designed to in the game to be the U.S. equivalent.
Assault Rifles of Battlefield Vietnam

Assault Kit
Scout Kit
Assault Rifles of Battlefield 2

Assault Kit
Medic Kit
Special Forces Kit
Assault Rifles of Battlefield 2142

Assault Kit
Recon Kit
Assault Rifles of Battlefield: Bad Company

Assault Kit
Specialist Kit
Assault Rifles of Battlefield Heroes

Soldier Kit
Assault Rifles of Battlefield: Bad Company 2: Vietnam

Assault Kit
Assault Rifles of Battlefield Play4Free

Assault Kit
Engineer Kit
Assault Rifles of Battlefield 3

Assault Kit
Engineer Kit
All Kits
External links
Edit