This article is currently under construction. It may contain little or inaccurate information.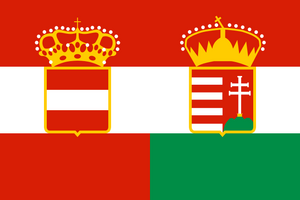 Austria-Hungary
(German: Österreich-Ungarn or Donaumonarchie; Hungarian: Osztrák–Magyar Monarchia or Ausztria-Magyarország), also known by other names and often referred to as the
Austro-Hungarian Empire
in English-language sources. was a constitutional union of the Austrian Empire and the Kingdom of Hungary that existed from 1867 to 1918, when it collapsed as a result of defeat in
World War I
.
Battlefield 1
Edit
Austria-Hungary is one of six faction that is set to initially appear in Battlefield 1. A tank with double headed eagles on the front and flank can be seen in a teaser trailer for the game.
The Austro-Hungarian army fight exclusively in the Italian Theatre against the Royal Italitan Army, both in the mountainous north and coastal south of the country.
Engagements
Edit