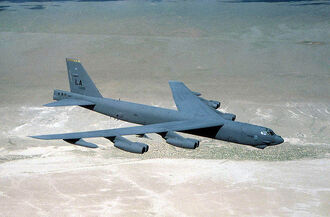 The
Boeing B-52 Stratofortress
is a long-range, subsonic, jet-powered strategic bomber. The B-52 was designed and built by Boeing, who have continued to provide support and upgrades. It has been operated by the
United States Air Force
(USAF) since the 1950s. The bomber carries up to 70,000 pounds (32,000 kg) of weapons, the most of any active bomber.
Battlefield: Bad Company 2
Edit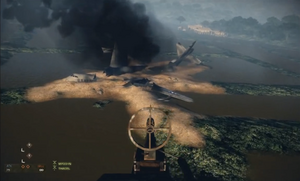 The B-52 Stratofortress appears in Battlefield: Bad Company 2: Vietnam on the map Phu Bai Valley as a wreckage in a rice paddie. It can be best observed near flag B, the second pair of M-COMs or the UH-1 Iroquois.
Ad blocker interference detected!
Wikia is a free-to-use site that makes money from advertising. We have a modified experience for viewers using ad blockers

Wikia is not accessible if you've made further modifications. Remove the custom ad blocker rule(s) and the page will load as expected.