BMP-3
Talk

0
1,964pages on
this wiki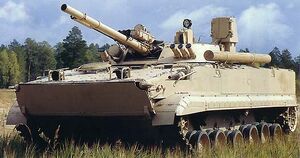 The
BMP-3
(
Russian
: Боевая Машина Пехоты, Boyevaya Mashina Pekhoty; 
English
: Infantry Combat Vehicle) is a amphibious infantry fighting vehicle designed by Kurganmashzavod of the
Soviet Union
. It is successor to the BMP-1 and
BMP-2
 and still is in service with the
Russian Federation
.
Battlefield 2: Special Forces
Edit
BMP-3
Vehicle passengers

Driver
4 passengers
(5 total)

Main weapon

2A70 100mm gun

Main weapon ammuntion per reload

1

Alternative weapon
Alternative weapon fire mode

Automatic

Alternative weapon ammuntion per reload

Unlimited

Countermeasures

Smoke launcher

Vehicle speed

Medium

Vehicle maneuverability

Medium

Camouflages available

Woodland

Operators
"This Russian armored personnel carrier has a main gun that fires 100mm small tank rounds and a small machine gun for eliminating troops. It is amphibious, allowing it to traverse various terrains quickly."
— Instruction Manual Description
The BMP-3 in Battlefield 2: Special Forces is a unique vehicle operated by the Russian Spetsnaz, Russian Rebel Forces, MECSF and Insurgent Forces, it can hold up to 5 players (driver crew, 4 passengers). It functions similar to infantry fighting vehicles in the game. However, the BMP-3 has primary armaments similar to a main battle tank; the co-axial autocannon is curiously missing. The passengers also do not have machine gun ports like in other infantry fighting vehicles, but rather ride in the passenger compartment. Also while in the passenger compartment players can see one another, also it works well as an amphibious tank due to the 100mm gun and large troop carrying capacity. It be can also be used as a tank destroyer due to the large main gun.
Its weakness is rather its weak armor that can take usually two to three anti-tank rocket launchers to destroy and can be sometimes be taken down by an regular IFV
Appearances
Edit
External links
Edit