Battlefield 1942
Talk

5
1,695pages on
this wiki

Battlefield 1942
Developer(s)
Publisher(s)

Electronic Arts

Engine
Released

Microsoft Windows
NASeptember 10, 2002
EUSeptember 20, 2002
Mac OS
June 28, 2004

Genre

First-person shooter

Mode(s)
Ratings
Media
Input methods
Battlefield 1942 (commonly abbreviated BF1942) is the first installment in the Battlefield series and is set during World War II in the Pacific, European and Northern African theatres. Battlefield 1942 can support up to 64 players on a map and has multitudes of vehicles ranging from jeeps to planes to aircraft carriers. It was released for PC in 2002 and was later made the AIAS and IGN Game of the Year. In 2012, it was made available for free on Origin to celebrate it's 10th anniversary.
Overview
Edit
Battlefield 1942 is set during the Second World War. Like later games in the series, it allows players to play on maps based on famous battles from this major conflict. It features the battles from the Eastern and Western Fronts, North Africa, and the Pacific Theatre.
The gameplay of Battlefield 1942 generally has a more cooperative focus than previous games in the FPS (first-person shooter) genre, as it is not only important to kill the opposition but to also hold certain "control points" around the map. Capturing control points allow the team to reinforce themselves by enabling players and vehicles to spawn in the vicinity of the control point. Consequently, capturing and controlling these points also will reduce enemy reinforcements. Battlefield 1942 was one of the first mainstream games to represent a dramatic shift in FPS gameplay mentality not only favouring individualism, but simultaneously encouraging teamwork and coordination.
The most popular gameplay mode, and only mode featured in singleplayer, is Conquest. Conquest centers on the capture and control of control points on a map, represented by flagpoles with either a white flag or an allied or enemy nation's flag over it. Once a team captures a control point, its members can respawn from it. When a team loses control of all their control points, they cannot respawn. And if no one is alive, the team with no spawn points loses the match.
In Conquest games are composed of rounds. A team wins the round when the other team runs out of respawn tickets. A team loses tickets when its members are killed, but also when the other team holds a majority of the capture points on a map. Therefore, sometimes the winning team must hunt down straggling or hiding enemy forces at the end of a round.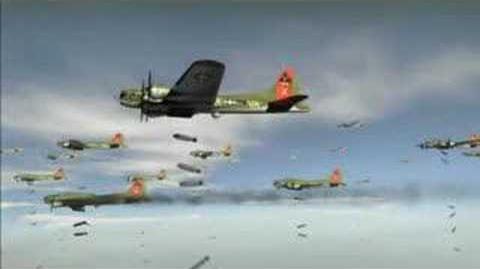 Spawn tickets also play a vital role in the success of both teams. Every time a player on a team dies and respawns, his team loses one ticket. Every team starts each round with between 150 and 300 tickets, depending on the team's role (e.g., defense). Teams also gradually lose tickets depending on how many spawn points they control. As a general rule, the fewer spawn points controlled by a team, the more tickets they lose. For a team of 32 on a 64 player map, with 150 tickets, this means a little less than 5 respawns or deaths on average for every player if they hold their starting spawn points.
The Cooperative gameplay mode, or Co-Op, most resembles the singleplayer conquest mode, but multiple online players could join the game and fight alongside and against the computer controlled AI or Bots. The server could set the difficulty level of the bots and how many bots would be assigned to which teams. This was used in great effect to create Humans VS AI servers.
Capture the Flag, or CTF, is a multiplayer only gameplay mode where each team must capture the other teams flag. The Capture the Flag gameplay mode is not unique to Battlefield 1942, but it had up until that time never been implemented with such large maps or player controlled vehicles that the flag carrier could operate. Each time a team captured a flag they were awarded one ticket. When a preset number of points was reached the game was over and the team who reached that number had won.
Team Deathmatch, or TDM, is a multiplayer only gameplay mode where two teams are pitted against each other on smaller sized versions of the game's maps. When a member of a team is killed that team loses one ticket. When a team reaches zero tickets the game is over and the other team wins.
Factions
Edit
Vehicles
Edit
Downloadable Content
Edit
Battlefield 1942 currently features two expansion packs the introduced new weapons, maps, and weapons that relate to the themes of their respective packs.
Battlefield 1942 has been "mod friendly" since its beginning, with free modding tools even published by EA. Notable modifications include BattleGroup42, Battlefield 1918, Desert Combat, Eve of Destruction and Forgotten Hope.
Eve of Destruction
Edit
Eve of Destruction (EoD) is a series of mods based off of the Indochina War. Maps from 1942 were ported in a "Vietnam fashion", with appropriate vegetation and buildings. The mod also includes "fun" maps, like Jocosiness, an oval archipelago with surrounding road with many speeding vehicles, and arcade style physics, as well a map with teams of "superheroes", composed of comedy and action movie's characters. Scattered around parts of the maps are pin-ups of Playboy Playmates of that time. The mod was extremely successful and awarded 2 mod of the year awards and it had sequels for every game before Battlefield 2142.
http://www.moddb.com/mods/eve-of-destruction1
Desert Combat
Edit
Desert Combat (popularly abbreviated as DC) is a total conversion mod created by Frank Delise, Brian Holinka, Tim Brophy, and Stephen Wells. It features new weapons and Conquest and Capture the Flag maps. Desert Combat is moved away from World War 2 to the modern era, based in Iraq during the 1990 Gulf War. The Axis team is replaced with Iraq while the Allied team is replaced with the Coalition, represented by the USA.
Among others, the mod adds various modern weapons, such as the M-1 Abrams, F-16 Fighting Falcon, A-10 Warthog, M-16, AK-47, BMP-1 and SVD Dragunov sniper rifle, and new maps based on the Gulf War. It also added support for original Battlefield 1942 maps to create historical battles with modern weapons. Some of these features eventually found their way into Battlefield 2 (and its sequels).
The game gained extreme popularity after the 2003 invasion of Iraq and was featured in many media websites. DC also had 'add-on' mods of its own which were Desert Combat Extended, Desert Combat Realism, and Desert Combat Final, which modify gameplay and add new content such as additional armies and features such as the British Army in Desert Combat Extended. Because of the popularity of the mod, DICE bought Trauma Studios to help them with Battlefield 2. Some members of the studios Desert Combat team decided not to join and DICE and finish Desert Combat Final which was released on October 16th, 2004. The mod was awarded 4 awards by different gaming websites.
http://www.moddb.com/mods/desert-combat
Forgotten Hope
Edit
Forgotten Hope (FH) is a mod released in 2003 that concentrates on adding both a more realistic and more enjoyable playing experience than the original Battlefield 1942. It features over 250 pieces of new authentic equipment, which is more than any other FPS set in World War II, as well as new maps and armies, like the Polish army.
The mod drastically alters the gameplay. Weapons are much more deadly and more accurately modeled after the actual weapons (e.g. the Lee-Enfield No.4 holds ten, instead of five bullets). Soldiers now carry more historically accurate loadout, such as the lack of sidearm for non-officers and the weapons of each classes reflect the time period in which the battle was fought, for example, the Sturmgewehr 44 is no longer freely available for the axis team, instead it is only used in late war maps and is totally inaccessible to the Japanese. Vehicles are also designed to be more realistic and maps are created to model the actual battle. The Panzerschreck and Bazooka are also not available until 1943 battles and instead anti-tank rifles and grenades are used. The starting classes are also changed, there is an "Officer" class and classes like sniper and medic is removed and replaced with different variations of the assault class. The mod also adds new pickup kits, like the "Pilot", which can be found near aircraft, "Sniper", which can be found in sniper hides, "Medic" and "Heavy weapons (e.g. mortar and deployable machine-gun)", found on certain maps and the "Paratrooper", which are found in certain maps that they are useful for.
The mod has won awards such as the ModDB Players Choice Award in 2006 and the Macologist Mod of the Year Award after the mod was ported to Mac computers. It has since spawned a sequel, Forgotten Hope 2 (for Battlefield 2') in 2006. The mod has also spawned several 'add-ons' to the original mod for Battlefield 1942.
http://www.moddb.com/mods/forgotten-hope
Forgotten Hope Secret Weapon
Edit
Forgotten Hope Secret Weapon (FHSW) is a mod released in 2007 that concentrates on adding both a much more realistic and more enjoyable playing experience than the original Forgotten Hope, with the theme "Secret Weapons".
The gameplay is similar to the realistic approach of Forgotten Hope which means that the crosshairs for infantry are only accurate if you stand still for a brief moment. It makes a huge difference to the more arcade gameplay of Battlefield 1942 where you are able to jump and shoot accurate at the same time. You also die very quick, one shot by a rifle or burst by a machine gun is often sufficient. The ability of warfare is also higher. You can use your machinegun on a wall, you can use your machinegun as AA gun or you can drop your machinegun on a tripod in a house. Further it is possible to transport artillery with your tractor, truck or with horses. And it is also possible to resuply tanks meanwhile you repair them with the engineer tanks.
On sea it is possible to survive submarine attacks, but your ship will floot different because the damage under sea surface. Your ship can lean on a angle and your guns can possible not hit the enemy.
All the planes are a lot more realistic too, the bombers are very heavy and can only carry a very limited amount of bombs before they have to reload at the airfield. The fighters are a lot faster and more agile, every plane feels different because all the data (e. g. armament, top speed, climbing characteristic, armor,...) is based on the real one.
Further Forgotten Hope Secret Weapon have one purpose: secret weapons. You can use fiction and non-fiction vehicles wich are planned or be buult as prototype or in limited production. Driving with the German Maus tank, flying with the Russian TB-3 bomber with an T-40 under the fuselage, shooting with British Panjandrums, driving the T-29 while you fight in 1948 against the IS-3-D30 or hide as Japanese soldier in the mountains in 1946 and attack the enemy with Type 4 tanks, Japanese produced Tiger tanks. Or what you think to attack as British the German Landkreuzer P.1000 Ratte, a 1000 tonnes heavy monster with two naval guns or destroy the Americans with the Haunebau flying Ufo, or race against the enemy with or race cars? It is all possible!
Battlefield 1918
Edit
Battlefield 1918 (BF1918) is a total conversion mod that brings World War I into Battlefield 1942. The gameplay has been drastically changed so that players must now rely on teamwork, artillery, trenches and slow vehicles. The mod includes over 90 maps and many playable armies including the United States, Canada, Great Britain, Germany, Austria-Hungary, Ottoman Empire, India, Russia, etc. The battles included in the mod range from Western, Eastern and Southern areas of Europe to North and Equatorial Africa to the Middle East and finally Asia. Besides the land and air battles that took place in World War I, naval battles have been included in which battleships ruled the seas. The mod has garnered positive reviews, with a ModDB community rating of 9.6 out of 10 and a Battlefield 2 FileFront rating of 9.5 out of 10.
http://www.moddb.com/mods/battlefield-1918
Soundtrack
Edit
The soundtrack for Battlefield 1942 was composed by Joel Eriksson. There are 4 tracks in-game; the main theme (Slaughter IV), the loading theme (Vehicle IV), the losing theme (Menu), and the winning theme (Vehicle III). These can be founded in Battlefield 1942 directory (usually located at \Origin Games\Battlefield 1942\Mods\bf1942\Music). However, 18 more tracks are available at Joel Eriksson's website.
Reception
Edit
Battlefield 1942 has received unanimous praise from critics in the game industry. The game currently has a score of 89[1] in Metacritic based on 27 reviews and 88.67%[2] in GameRankings based on 44 reviews.
GameSpot gave the game an 8.8 out of 10[3], saying that "For now, as long as you can find skilled teammates and aren't getting pestered by the game's technical problems, Battlefield 1942 can be, quite appropriately, a real blast."
IGN gave the game a 9.3 out of 10[4], saying that "The game is a perfect bet for fans of online action. It's even likely that this game will find converts in the RPG or strategy crowd."
GameSpy gave the game 4.5 out of 5 stars[5], saying that "While it takes a beefy system to run and requires a good game server to really appreciate, Battlefield is one of the most rewarding shooters we've played in a long time. It's a tank game, a dogfighting game, a naval warfare game, a driving game, and a first-person shooter all rolled into one."
External links
Edit
References
Edit