Battlefield 2142
Talk

23
1,963pages on
this wiki

Battlefield 2142
Developer(s)
Publisher(s)
Engine

Modified Refractor 2

Version

1.50

Released

NA October 17, 2006
AUS October 18, 2006
EU October 20, 2006


Genre

First-person shooter

Mode(s)

Singleplayer, multiplayer

Ratings

ESRB: T
PEGI: 16+
OFCLA: M

Platform(s)
System requirements

Windows XP, Mac OS X (Intel based) operating system, 1.7 GHz processor, 128 MB DirectX compliant video card with pixel shader 2.0 and above (AGP and PCIe only), 512 MB RAM, DirectX 9.0c or higher, broadband internet connection

Input methods

Keyboard, mouse, joystick (optional), microphone (optional)
Battlefield 2142 is the fifth installment in the Battlefield Series and was developed by DICE and published by Electronic Arts.
Battlefield 2142 is set in an "ice age" period of the Earth in the 22nd century (near the midpoint of that time period), where the PAC (Pan-Asian Coalition) and EU (European Union) forces fight for the remaining pieces of habitable land in North Africa and the Middle East that the ice age has not devoured in a conflict known as The Cold War. The game features a new game mode, Titan, and is the first game in the Battlefield series not to have the United States as a playable faction.
Overview
Edit
Similar to other installments of the series, 2142 features a classed based system, with a total of four distinct classes.
Maps and Gametypes
Edit
Battlefield 2142 originally featured a total of ten maps in the base game but later patches eventually increased this to seventeen. Maps take place in notable areas around the world that have been drastically changed by the new ice age, with some maps returning from past installments. The base game features three gametypes with a new gametype, Titan, introduced.
Weapons and Gadgets
Edit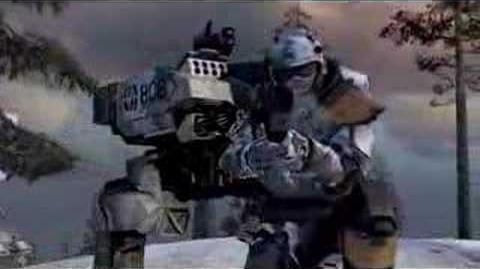 Since the game takes place in the year 2142, weapons are futuristic and meant to be later variations of modern weapons. Weapons and gadgets are unlocked through online progression but can also be unlocked for offline testing/causal playing using modificaitons.
โจมตีโลกโจมตีไทย |name=Vehicles/BF2142 |group1=Main battle tanks |list1 = A-8 Tiger · Type 32 Nekomata |group2 = Armored personnel carriers |list2 = AMV-2 Groundhog · BTR-4 Romanov · A3-Goliath IFV (Northern Strike) |group3 = Fast attack vehicles |list3 = MK-15 Bandit · UAZ-8 Ocelot · Type-36 Hachimoto (Northern Strike) |group4 = Battle walkers |list4 = L5 Riesig · T-39 Bogatyr |group5 = VTOL aircraft |list5 = UD-12 Shepherd · UD-6 Talon · BTR-20 Yastreb · Type 4 Doragon |group6 = Titans |list6 = MK-1 Titan · Type-2 Titan |group7 = Emplacements |list7 = Rorsch Mk-S8 · Rorsch Kz-27 |group8 = Miscellaneous |list8 = Assault Pod }}
Downloadable Content
Edit
Northern Strike
Edit
Battlefield 2142: Northern Strike takes place in Central and Northern Europe 6 years after the war began in 2139. It features 10 unlocks, 3 new maps, 2 new vehicles, and a new game mode titled Assault Lines. It was released on March 8, 2007 and was later made free with the introduction of the 1.51 patch.
Reception
Edit
Battlefield 2142 has received generally positive reviews from industry critics. The game has a score of 80 out of 100[1] on Metacritic and 79.77%[2] at GameRankings.
GameSpot gave the game a score of 8.1 out of 10,[3] saying that "Aside from the new Titan mode, there's not a lot new here, though, so this doesn't feel anywhere quite like the leap that Battlefield 2 represented from its predecessors--it's more akin to what Battlefield: Vietnam was to Battlefield 1942. Still, if you're looking for more multiplayer mayhem, it's hard not to recommend Battlefield 2142."
IGN gave the game a score of 8.4 out of 10,[4] saying that "Battlefield 2142 might not be extraordinary, but it still got excitement and fun."
CPUGamer was the least impressed reviewer for the game, giving it a score of 6.5 out of 10,[5] saying that "2142 is not a bad game – it's got lots of bugs, balance issues, and other idiosyncrasies, but it's not bad. My only issue with it, honestly, is that DICE hasn't really made an effort to change anything substantial about the game in five years. I understand that they've created a winning formula, but I've grown pretty tired of playing the same thing year after year, and no change of scenery – to Vietnam, the future, or anything else – is going to alter that basic fact."
Windows Vista Criticism
Edit
Battlefield 2142 has, and still is being criticized for its difficulty to play on Vista. The game was only tested for XP. It's very difficult to get the game to function at all on Vista, and many times, it will simply crash before the game begins. Players have also reported connection issues online with the game when using wireless networks while using Vista as an operation system. The game may also freeze and, will be unable function again until reinstalling the game. However, EA has released a patch that supposedly would address many issues with Vista. The game functions fine on Windows 7, with the exception of some occasional Punkbuster compatibility issues with Windows 7, which may result in the player being kicked for "an unknown Windows API function."
References
Edit

External links
Edit