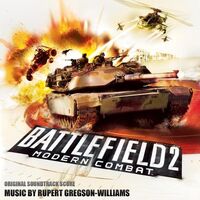 The Battlefield 2: Modern Combat Original Soundtrack Score was released on the 19th of December, 2006, eight days after the North American release of the Xbox 360 version of the game. It contains 14 tracks used in Battlefield 2: Modern Combat, all composed by Rupert Gregson-Williams, the brother of the famous movie music composer, Harry Gregson-Williams.
All of the tracks released on the score were used for the single-player campaign of
Modern Combat
, while a separate score by Tobias Marberger was used for the multiplayer component of the game. Because of such, many of the tracks are named after the single-player missions they appear in.
Tracklist
Edit
Ad blocker interference detected!
Wikia is a free-to-use site that makes money from advertising. We have a modified experience for viewers using ad blockers

Wikia is not accessible if you've made further modifications. Remove the custom ad blocker rule(s) and the page will load as expected.