Battlefield Hardline
Talk

16
2,195pages on
this wiki

This article is a stub. It is short and in need of expansion. Why not help out?
This article is currently under construction. It may contain little or inaccurate information.
"There's the law, then there's justice."
— E3 2014 Battlefield Hardline Booth
Battlefield Hardline (also known as BFH or BFHL) is an upcoming installment in the Battlefield series, developed by Visceral Games in collaboration with DICE and published by EA. Battlefield Hardline is unique in the fact that it is police themed, focusing on the continual war on crime, rather than military conflicts depicted in all previous Battlefield installments.
They game was originally set to release on October 21, 2014 but was delayed to early 2015 to allow the developers more time to work on the game.[3]. It is now set to release on March 17, 2015 in North America and March 19, 2015 in Europe.[4]
Singleplayer
Overview
The singleplayer campaign features many elements from past installments, taking place in numerous locations across the world such as Los Angeles, California and its surrounding deserts. Similar to Battlefield 4, levels are built in sandbox-style environments but on a much larger scale, allowing players more freedom to complete objectives. Levels are inspired by crime shows on television, with each ending on a cliffhanger to lead into the next mission.
Setting
The player steps into the shoes of Nick Mendoza, a young detective who is traveling across the country to bring his former partners to justice after they became corrupt.[5]
Multiplayer
Ranks and Awards
Battlefield Hardline features a ranking system that is progressed through based on earned experience though gameplay. The game is confirmed to feature a total of 150 ranks upon release.[6] The game also features ribbons that are awarded by completing specific actions. Earning a certain ribbon a specific number of times awards players a Medal. Service Stars are awarded after earning enough experience progression for that object.
Classes
The game features four classes that function in similar manners to the classes of Battlefield 4 but with notable differences.
Maps and Gamemodes
Battlefield Hardline will feature nine maps set across the United States as well as seven gamemodes upon its release.[7]
Multiplayer Levels of Battlefield Hardline
Battlefield Hardline
Weapons and Gadgets
The game will feature many different weapons used by both Law Enforcement and Criminals alike as well as faction specific weapons, each with their own sets of accessories and attachments offering thousands of different combinations for players. Unlike past installments, weapons, gadgets, as well as attachments must be purchased to be unlocked for permanent use and can be done so in any order. Money is obtained through game play and there is no limit on how much may be accumulated.
Following feedback from the beta, certain weapons such as the RPG-7 have become Battle Pickups that become available to the team that controls the weapon's cache, depending on the game mode. Also, instead of allowing players to equip these weapons to their inventory loadout, they can now equip the weapon to a specific vehicle, placing the weapon in the trunk of that vehicle. To obtain it, players must take control of that vehicle and proceed to open its trunk.[8]
Vehicles
The game features dozens of vehicles that are used by police forces as well as civilians, such as motorcycles, various automobiles, armored trucks, and helicopters. Since tanks, attack helicopters, and jets are restricted for military use only, they will not be featured within the game.
Vehicles of Battlefield Hardline
Armored Vehicles
Police Automobiles
Civilian Automobiles
Motorcycles
Helicopters
Naval Craft
Factions
Battlefield Hardline features two factions, Law Enforcement and Criminals.
Notable Features
Specializations of

Battlefield Hardline

Kits
Vehicle Weapons
Vehicle Countermeasures
Vehicle Optics
Vehicle Upgrades
Vehicle Gunner
Development
The idea for Battlefield Hardline was first conceived in 2011 at an internal EA meeting in Barcelona between Steve Papoutsis and Karl Magnus Troedsson, the vice presidents and general managers of Visceral Games and DICE, respectively. They two were fans of the Dead Space and Battlefield series and were devising ways they two studios could work on a project together and how to take the Battlefield series to a new direction.[9] Loving the "cops and robbers" theme from the cancelled DICE game Urban Combat, the two believed the studios could now pull it off.[10] However, as a "test", DICE instructed Visceral to develop the Battlefield 3: End Game expansion to show what they could do with the series.[11]
Development of the game was also influenced based on feedback from the Community Test Environment in Battlefield 4.
Beta
On June 2, 2014, gameplay footage of the beta was leaked to the internet, showing off the game's weapons and vehicles. However, the video has since been taken down.[12] It was later revealed by SONY that there would be a beta for the game on the Playstation 4 and that those who attended SONY's E3 screenings at cinemas would receive beta keys.[13] The beta would feature two game modes on a single map, High Tension.
At the end of the EA Press Conference for E3 2014, EA officially announced the closed beta and stated it was live on PlayStation 4 and PC from that moment on. They also revealed the beta was playable at the Conference on PlayStation 4. PlayStation 3 and Xbox 360 players can also register for the beta which will be available at a later date and were awarded a special dog tag for Battlefield 4 as well as specialized camouflage and attachments in Battlefield Hardline.
EA eventually made the closed beta open to all PC players on June 18, 2014 and made the beta available in the Battlelog App on the same day. The closed beta ended on June 26, 2014. The open beta was stated to become available in Fall 2014.[14] With the game's delay, however, the open beta was rescheduled to be available in early 2015.
Marketing
On May 27, 2014, Battlefield Hardline was first revealed through an accidental leak on an update on Battlelog. Later the same day, EA officially announced the game though the creation of the game's official website and stated that the game would be formally unveiled on June 9, 2014 at the EA Press Conference at E3 2014. On May 28, however, a confidential gameplay video of the game was leaked online, detailing both the game's singleplayer and multiplayer modes. Visceral responded to the video leak by stating that the footage was already six months old at the time of the leak, and that fans would be able to see the real thing at E3 2014 in the coming weeks.[15]On June 5, however, the games first teaser trailer was leaked and subsequently officially revealed hours later.
Special Editions
Deluxe Edition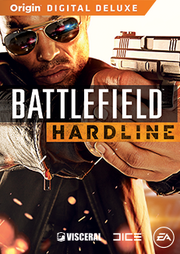 Trailers of

Battlefield Hardline

Teaser Trailers
Singleplayer Trailers
Multiplayer Trailers
Trivia
Gallery
Videos
External Links
References