Battlefield Hardline: Original Soundtrack
Talk

0
Share
Ad blocker interference detected!
Wikia is a free-to-use site that makes money from advertising. We have a modified experience for viewers using ad blockers

Wikia is not accessible if you've made further modifications. Remove the custom ad blocker rule(s) and the page will load as expected.

See also, Battlefield Hardline: Radio Soundtrack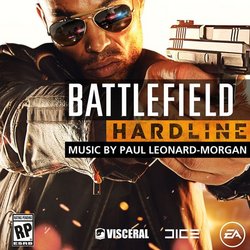 The
Battlefield Hardline Original Soundtrack
was released to iTunes and Amazon on March 17, 2015. It was composed by Paul Lenoard-Morgan and features 19 electronic and ambient-styled tracks featured in
Battlefield Hardline
.
Tracklist
Edit
| # | Track | Length |
| --- | --- | --- |
| 1 | Deal Gone Bad | 6:29 |
| 2 | Chop Shop | 4:20 |
| 3 | The Boom Boom Room | 1:59 |
| 4 | Zip Line | 2:44 |
| 5 | Getting Trippy | 4:54 |
| 6 | Fireworks Raid | 3:50 |
| 7 | Everglades Stadium | 1:53 |
| 8 | Everglades Sawmill | 4:13 |
| 9 | Used Cars | 5:36 |
| 10 | Arrest and Betrayal | 1:51 |
| 11 | Weedhouse | 4:26 |
| 12 | Khai Bleeds Out | 3:30 |
| 13 | Trailer Park | 3:30 |
| 14 | Nick and Khai Reunite | 1:26 |
| 15 | Desert Airfield | 3:51 |
| 16 | Escape | 5:31 |
| 17 | The Reveal | 1:32 |
| 18 | End of Round | 1:48 |
| 19 | Battlefield Hardline Main Theme | 1:43 |