Battlefield Heroes
Talk

9
1,695pages on
this wiki

Battlefield Heroes

Battlefield Heroes logo

Battlefield Heroes
Developer(s)
Publisher(s)

EA
Aeria Games

Engine
Released

June 25th, 2009

Genre

Third-person shooter

Mode(s)

Multiplayer

Platform(s)

Microsoft Windows
Battlefield Heroes is the sixth installment in the Battlefield series and was developed by both DICE and Easy Studios and after many months of delay was released on June 25, 2009. It is the first game to be released in EA's new "Play4Free" service, though players can spend money to buy weapons and customizations. It was developed to run on all kinds of computers so players with sub-par computers are able to enjoy the game.
Gameplay
Edit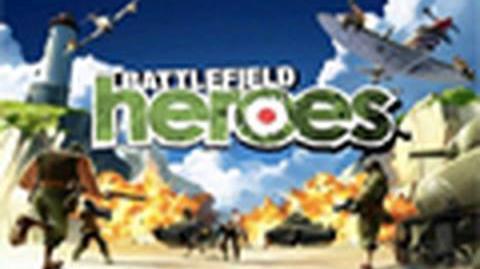 Battlefield Heroes
keeps the core gameplay of the Battlefield Series while also introducing its own unique additions to the series. To combat unfair games, Battlefield Heroes uses a matchmaking service to match players of similar skill level to prevent unbalanced matches. Unlike previous installments, the game is in third-person view.
The game's core gameplay revolves around the Royal and National Armies, both of which are based on British, American, and Nazi Germany soldiers. It features two game modes, a modified conquest mode and a mode similar to Capture the Flag known as V2 Vengeance that is only available on Midnight Mayhem.
Like previous installments, Battlefield Heroes utilizes a class based system, where are the Soldier, the Gunner, and the Commando.
The Commando class is a recon type character, having low health compared to other classes.
Sniper Rifle
Knife
Pistol
Abilities
Edit
Troop traps
Cloaking
Poisoned Daggers
Increased Speed of Nearby Friendlies
Spotting
The Gunner class is the slowest class, yet possesses the greatest amount of health compared to other classes and is able to carry heavy weapons.
Rocket Launcher
LMG
Shotgun
Abilities
Edit
Leg It
Hero Shield
Frenzy Fire,
I Eat Grenades
The Soldier class the all around-class, having equal amounts of health, speed, and armament compared to other classes.
SMG
Shotgun
Pistol
Grenades
Abilities
Edit
Burning Bullets
Health Boost/Team Healing, which
Extra Grenades
Sixth-Sense
Blasting Strike
Customization
Edit
Battlefield Heroes features many of customization options, so as to suit their characters appearance to their preference. While some items are class specific, others are theme specific to events being used to promote them, as well as time limited events.
Vehicles
Edit
Vehicles of

Battlefield Heroes
Reception
Edit
Battlefield Heroes currently holds a score of 69[1] in Metacritic based on 24 reviews and a score of 74.07%[2] in GameRankings based on 14 reviews.
You can dress your character like Haggard or Kirilenko from Battlefield: Bad Company 2.
The Medal of Honor (2010) character "Dusty" makes a cameo appearance as an Easter egg.
The Hell Trooper gear set may be a reference to the helghast from the Killzone series.
Links and Sources
Edit
References
Edit