Battlefield Heroes
Talk

9
1,963pages on
this wiki

Battlefield Heroes
Developer(s)
Publisher(s)

EA
Aeria Games

Engine
Released

June 25th, 2009

Genre

Third-person shooter

Mode(s)

Multiplayer

Platform(s)

Microsoft Windows
Battlefield Heroes is the seventh installment in the Battlefield Series and was developed by both DICE and Easy Studios. It is the first game to be released in EA's new "Play4Free" service, though players can spend money to buy weapons and customizations. It was developed to run on all kinds of computers so players with sub-par computers are able to enjoy the game.
The plot is a paradoy of World War II, revolving around the Royal and National Armies, both of which are based on British, American, and Nazi Germany soldiers respectively.
The game's two factions, the Royals and Nationals, were once great friends. During the Olympics, however, the Royal Nation accused the National Homeland of cheating during a track cycling contest. Controversy arose and the Nationals made fun of the Royal's King moustache, leading in the Royals to declare war against the Nationals.
Gameplay
Edit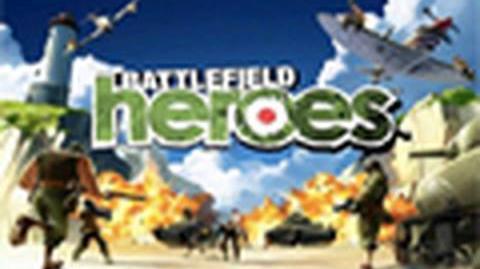 Battlefield Heroes keeps the core gameplay of the Battlefield Series while also introducing its own unique additions to the series. To combat unfair games, Battlefield Heroes uses a matchmaking service to match players of similar skill level to prevent unbalanced matches. Unlike previous installments, the game is in third-person view.
It features two game modes, a modified conquest mode and a mode similar to Capture the Flag known as V2 Vengeance that is only available on Midnight Mayhem.
Like previous installments, Battlefield Heroes utilizes a class based system, featuring a total of three classes.
Customization
Edit
Battlefield Heroes features many of customization options, so as to suit their characters appearance to their preference. While some items are class specific, others are theme specific to events being used to promote them, as well as time limited events.
Vehicles
Edit
Vehicles of

Battlefield Heroes
Reception
Edit
Battlefield Heroes currently holds a score of 69[1] in Metacritic based on 24 reviews and a score of 74.07%[2] in GameRankings based on 14 reviews.
Links and Sources
Edit
References
Edit