Battlefield Play4Free
Talk

25
1,931pages on
this wiki

Battlefield Play4Free





Developer(s)
Publisher(s)
Engine
Version

1.61

Released

Closed Beta: November 30, 2010
Open Beta: April 4, 2011

Genre

First-person shooter

Mode(s)
Ratings

ESRB: T
PEGI: 16+

Media

Free Download

Input methods

keyboard, mouse
Battlefield Play4Free is the tenth installment in the Battlefield Series and was developed by DICE and Easy Studios for free play.[1] It utilizes the Refractor 2 Engine used in earlier installment in the series, supporting 32 players online.
Battlefield Veterans were granted access to the open beta four days early on March 31, 2011.[2] Facebook and Twitter fans were granted early access on April 2.[3]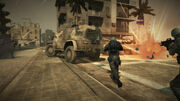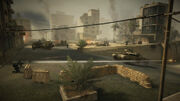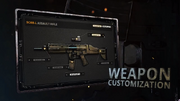 Battlefield Play4Free takes place in a contemporary modern warfare setting, during a fictional war between the United States and Russia in many war zones originally featured in Battlefield 2.
Overview
Edit
Battlefield Play4Free features only an online mode similar to Battlefield Heroes and Battlefield 2. It incorporates modified versions of classic game modes such as Conquest Assault, Rush (Sharqi, Dalian, Basra, and Karkand), as well as weapons utilized in Battlefield 2, Battlefield: Bad Company 2, and Battlefield 3.
Customization
Edit
There are four kits featured in the game, much like in Battlefield: Bad Company 2. These are the Assault, Medic, Engineer, and Recon kits. Each has its own specific weapons and gadgets that it may use to contribute to the team effort, but every class may acquire a shotgun, similar to Bad Company 2.
Battlefunds
Edit
Since Battlefield Play4Free is developed by Easy Studios, the same developers of Battlefield Heroes, it uses a similar system of player customization. Players may acquire these customizations through Battlefunds and can own them temporarily or permanently, depending on the quantity spent.
Battlefunds can be used interchangeably in both Play4Free and Heroes. Clothing customizations have a purely aesthetic effect and have no impact on gameplay. They can also be used to purchase weapons that feature higher statistics over those that can be earned for free.
Training Points
Edit
Leveling up unlocks Training Points, allowing players to unlock items for use in-game, such as special weapons, gadgets and other physical abilities. There are 3 tiers of abilities to unlock, requiring players to spend a certain amount of training points from the previous tier.
Training

Options of

Battlefield Play4Free
Factions of

Battlefield Play4Free
Multiplayer Levels of Battlefield Play4Free
Patches and Updates
Edit
See Version History for the updates regarding Battlefield Play4Free.
Soundtrack
Edit
Music for Battlefield Play4Free was provided by the Swedish metal band Corroded. After large amounts of requests from the community for a full version of the song featured in the teaser trailer, Easy Studios collaborated with Corroded to release the full version of the song, titled "Age of Rage".[4] The song is currently available for purchase on iTunes.
Weapon Sounds
Edit
For weapon sounds, see this playlist on Battlefield Wiki's official channel.
Reception
Edit
Unlike most other Battlefield titles, Battlefield Play4Free has received mixed reviews from industry critics.
The game currently holds a score of 68[5] on Metacritic according to 11 reviews and 67.75%[6] on GameRankings according to 8 reviews.
The highest score came from LEVEL, a video game magazine from the Czech Republic, giving it a 9/10, saying that "[It is a] very atmospheric first person shooter you can enjoy the best in small doses. Hardly anything to criticize because it is free and promises long-term entertainment."
IGN gave the game a 6/10,[7] criticizing the presentation and graphics of the game but praising its sound design, saying that "It all leaves me wondering why, at this point, anyone would choose to spend money on Play4Free when they could essentially get a larger, more complete game for just a few bucks more than the minimum Battlefunds purchase price."
Cheat Code Central was slightly more mixed in its review of the game, giving it an "Average" rating of 2.5/5,[8] criticizing the play value while also praising the sound design, saying that "Battlefield Play4Free is a decent download for people who are new to the FPS genre. At no cost, and with very low system requirements, it allows them to see if they enjoy multiplayer shooting. It's also not a bad way to kill an hour or two if you're bored. Beyond the first few hours, however, the gameplay becomes monotonous and you realize that the only way to succeed is to purchase upgrades."
External links
Edit
References
Edit