Battlefield Premium
Talk

0
1,960pages on
this wiki

"Get access to an unprecedented Battlefield experience."
— Main menu description
Battlefield Premium is a subscription service for Battlefield 3 and Battlefield 4 that offers members exclusive content.
Battlefield 3
Edit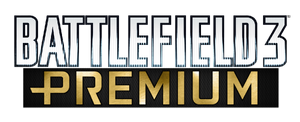 Premium became available for Battlefield 3 on June 4, 2012 for a one-time cost of US$49.99/£39.99/€49.99/AU$49.99. A Premium Edition for the game was later revealed at Gamescom 2012 and was released on September 11, 2012.
In-Game features
Edit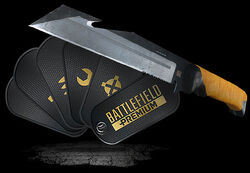 Unique camouflages for player models and weapons
Unique knife (ACB-90) and Dogtags
Early access to all DLCs (Back to Karkand, Close Quarters, Armored Kill, Aftermath, Endgame) for no additional cost
35 unique assignments
Exclusive bonus content, videos, strategy guides, events, soldier upgrades, bonus content drops, and double XP events
Priority in server queues
Unique title screen
Premium status displayed in killcam
Access to the Battlefield 4 Beta on the platform with Premium
Battlelog Features
Edit
The ability to reset K/D Ratio, W/L Ratio, Accuracy and SPM on Battlelog (all-time stats will remain the same)
Increased Platoon Emblem layers
Ability to save up to five battlereports on the Battlelog as favorites
A carbon fiber design for player profile
Eight new soldier profile images related to the Battlefield 3: Aftermath
The ability to use a signature at battlelog forums
Controversy
Edit
In Australia, the price for the service originally cost AU$49.99 across all platforms. When people started to purchase it, they noticed that the prices were AU$66 for the Xbox 360 and AU$79.95 for the PS3. Due to a massive number of complaints, the prices were lowered. However, only the PS3 received any benefits, and the price on the PS3 was reduced to AU$64.95. PS3 owners were also refunded AU$14.95.
Battlefield 4
Edit
This section is currently under construction. It may contain little or inaccurate information.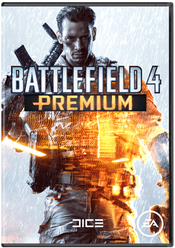 Premium will be available in Battlefield 4 at launch and can also be pre-ordered. Members are expected to gain exclusive uniforms, weapons, as well as exclusive expansion packs, such as Battlefield 4: China Rising. It will once again have a one-time cost US$49.99/£39.99/€49.99/AU$49.99.
It was confirmed in a post from the Battlefield Blog that Premium memberships can transfer from the PlayStation 3 and Xbox 360 versions of the game to the PlayStation 4 and Xbox One versions, respectively.[1]
In-Game features
Edit
References
Edit
Premium was first revealed through a mistake on an update for the PlayStation Store on May 30, 2012.
References
Edit