'Battlefield 5' - Official 'The Company' Trailer

| | |
| --- | --- |
| | This article is a stub. It is short and in need of expansion. Why not help out? |
| | |
| --- | --- |
| | This article is currently under construction. It may contain little or inaccurate information. |
Incoming!
The subject of this article is a recent or unreleased addition to a Battlefield game. It may contain speculation or errors.
Have new, relevant information to add? Why not help out?
Leaked content is not permitted here due to legal concerns.
Editors must cite all contributions to this article. Edits that do not follow this standard will be reverted without notice.
"Enter mankind's greatest conflict with Battlefield V as the series goes back to its roots in a never-before-seen portrayal of World War 2."
— Battlefield
Battlefield V (also known as Battlefield 5, BFV or BF5) is the upcoming sixteenth installment in the Battlefield Series developed by DICE and published by EA. The game brings the series back to its origins, being set during World War II. The open beta of the game is scheduled to start on September 4th, 2018 for EA Access and Origin Access members and will be available worldwide on September 6th, 2018 until September 11th, 2018.[1] The game is set to be released November 9th, 2018 for EA Access and Origin Access members and November 16th, 2018 for owners of the Early Enlister Deluxe Edition. It will be released worldwide on November 20th, 2018.[2]
Battlefield V returns to the major conflict of World War II, with a heightened focus on the lesser known battles of the war. The game is designed to be the most immersive experience in the series, with storylines ranging across major battles of the war. Game mechanics have been completed redesigned such as player movements, health regeneration, etc. Additionally players will have a more interactive role in gameplay by having to physically open doors, enter vehicles, or picking up health or ammo.
Women will be featured more prominently in the game, being protagonists of certain singleplayer missions and being available for use in all multiplayer classes. Customization has also been vastly improved, allowing players to customize all clothing, weapons, and vehicles in singleplayer and multiplayer with the introduction of The Company.
Singleplayer
Edit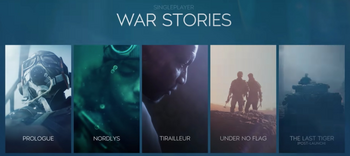 Similar to Battlefield 1, Battlefield V's main campaign will be made up of a collection of different War Stories. These stories will document the lesser known conflicts of both male and female soldiers across various locations during World War II.
All characters speak in their native languages with subtitles available.
Set in 1943 during the German occupation in Norway, it tells the story of Solveig, a young woman in the Noregian Resistance who must make the ultimate sacrifice in order to save her family.
Tirailleur follows Deme as he recounts his participation in Operation Dragoon with Senegalese units in France dueing 1944.
Under No Flag takes place in 1942 Northern Africa. Players assume the role of a Special Boat Service operative Billy Bridger who has been tasked to destroy enemy air bases across the continent.
The Last Tiger is a Post-Launch War Story, which will be the first time players can play singleplayer through a German perspective
Co-Op Campaign
Edit
Battlefield V features Combined Arms, a co-op campaign similar to Co-Op from Battlefield 3. The mode will allow a squad of four players to complete missions taking place across different theaters of World War II. Some of these will include playing as a team of paratroopers or stealth focused segments.[3] The co-op campaign will be available for all players post release of the game.
Multiplayer
Edit
Ranks and Awards
Edit
Battlefield V's multiplayer has fifty-one ranks available, with Company Coin being awarded for each rank. Assignments are challenged based tasks that award company coin upon completion of a set number of tasks. Four assignments may be tracked at once and can be switched with other assignments at any time. Daily Order assignments are also available which only require the completion of one specific task for a smaller amount of company coin as a reward. ribbons are awards obtained in matches through the completion of specific tasks and award additional experience points. codex entries are also featured in the game. Similar to Battlefield 1, Codex entries are unlocked through the completion of certain tasks. Once unlocked they will give players greater insight on the history of World War II.
Battlefield V has drastically changed the class system compared to previous installments. While the basic system returns, Combat Roles have been introduced which allow players customize the skills of each class to better specialize it for a certain situation. As progression is earned through a class, more Combat Roles are unlocked.
Assault - The kit retains its use of anti-vehicle weaponry designed to destroy enemy armor and break defensive lines. Class weaponry includes assault rifles and semi-automatic rifles.
Medic - The kit retains its role as the primary medical support kit. While all players are now capable of reviving downed squad members, only a medic can perform a revive to every teammates with full health. Additionally the medic or health stations can give players medical pouches which can be stored for later use if no medics are available. Due to the emphasis on reviving teammates, the kit now features close range weapons including submachine guns.
Support - Retains a similar role to recent installments, having the ability to resupply teammates with ammunition and suppress enemies with explosive gadgets. Additionally their role has been expanded to allow for construction of offensive Fortifications and faster construction times compared to other classes.
Recon - The kit retains the role of engaging enemies in mid to long range combat and reconnaissance.
Kits and Classes of

Battlefield V

Infantry
Vehicle
Battlefield V features maps that are set across the military campaigns of World War II. The Tides of War support for the game will introduce free maps that focus on specific campaigns of the war as they happened, starting in the early 1940s.
Gamemodes
Edit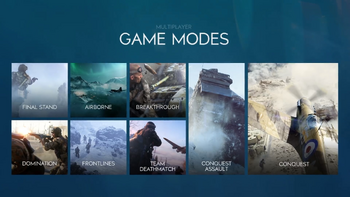 The game features the return of several gamemodes much past installments such as Conquest and Team Deathmatch. The new gamemode Airborne has been introduced as well as the expanded Operations from Battlefield 1 known as Grand Operations. This new mode splits matches over the course of four fictional days, providing players with four unique and distinct gamemodes, each with their own custom rules and map layouts. The outcome of each day affects the team's status in the day. If on the final day both teams remain at a stalemate, each player on both teams will spawn with only one life and limited ammunition.
Weapons and Gadgets
Edit
Similar to Battlefield 1, Battlefield V features dozens of historically accurate weapons and gadgets that had some record of use or were in development during the second World War. Weapons still remain both class and faction specific. Weapon customization has also greatly expanded compared to past installments, with weapons able to be fully customized both in their attachments and their cosmetics. Attachments are unlocked as players obtain weapon ranks through continued usage of their respective weapon. Cosmetics may also be obtained through using a desired weapon and do not affect gameplay.
Weapon Attachments of

Battlefield V

Optics
Accessories
Barrel
Underbarrel
Vehicles are similarly effected by the attritional gameplay adjustments which aim to limit the staying power of tanks and aircraft as well as encouraging team play. Vehicles now have a limited, non-replenishing supply of ammunition for both main guns and machine guns, in addition to vehicle specialization abilities and countermeasures which now have a limited number of uses. Vehicles are now required to be restocked at Supply Depots once they run out of ammunition. Specialist vehicles such as the Churchill Crocodile and Sturmtiger can be called in by Squad Leaders through use of the Squad Reinforcement system.
Improved over Battlefield 1, vehicles now have both entry and exit animations.
Vehicles of

Battlefield V

Heavy Armor
Medium Armor
Light Armor
Light Vehicles
Fighters
Ground Attack Aircraft
Bombers
Transport Aircraft
Emplacements
Squad Reinforcements
The game will feature two factions, the United Kingdom and Germany, at launch. More factions will be added in the Tides of War service through other theaters of the war. Additionally customization items will be locked to their respective faction.[4]
Notable Features
Edit
Downloadable Content
Edit
Unlike previous titles, Battlefield V will not offer a Premium Pass or charge players for additional content. Additionally the Tides of War system has been introduced which will see the release of periodic events that will tell an overarching narrative. This will be done through the release of new maps and gamemodes, with one of the first events depicting "The Fall of Europe" set during Spring 1940.[3]
Development
Edit
The game was confirmed by EA CEO Andrew Wilson on July 28, 2017. Multiple EA employees tweeted about the game on February 1, 2018, confirming only that it would be using the Frostbite engine.[5] The game was officially announced on May 23rd.[6]It was announced that at EA Play 2018, held between June 9th and 11th, the game will be playable for those that attend the event.[7]
On May 16th the official Battlefield website was updated to include Battlefield V as the next game, with additional info such as a new timeframe different from Battlefield 1's World War I setting, the return of War Stories narrative from Battlefield 1 and the possible return of Operations.[8]
On May 23rd, the Reveal Trailer was released and uploaded on YouTube. Later on June 9th, the Multiplayer Trailer was also released during EA Play, along with the Singleplayer Teaser Trailer during the Xbox E3 Briefing in the following day. On August 15th, the Gamescom Teaser Trailer was released, which means on the following day, the Gamescom Trailer (Devastation of Rotterdam) has been released, along with The Company Trailer on August 21st.
An Open Beta is planned to be held on September 4th, 2018 for EA and Origin access members. The beta will become available worldwide on September 6th, 2018 and will later end in September 11, 2018.[9]
While DICE had been interested in returning to the World War II setting for some time, the team was hesitant to retread ground already covered in Battlefield 1942 and Battlefield 1943, as well as numerous other World War II era games that saturated the market for a time. After successfully developing Battlefield 1, its development mantra of "untold, unseen, unplayed" was applied to setting of World War II, enabling the team to create something fresh by focusing on lesser known locations and engagements during the war. In multiplayer, some of these locations included early engagements along the Escaut during the German offensive into France and the Battles of Narvik in Norway in 1940. For singleplayer, the team opted for Battlefield 1's War Stories narrative again as opposed to an overarching story, again wanting to provide unique perspectives and experiences of the war to present to the player.[10]
The Company was created with intention of providing the player a personal "journey" during multiplayer, giving players a more specialized experience through customizing all aspects of their soldiers and vehicles. DICE wanted all soldiers, weapons, and vehicles to have a "story" to them and wanted players to express these stories through personal customization. Similar to Battlefield 1, Battlefield V presents a combination of both well-known and lesser known weapons and equipment that were present during the war, such as the inclusion of V-1 Rockets and tank chassis with multiple variants.[10]
Marketing
Edit
Standard Edition
Edit
Battlefield V
Early Access to Open Beta
One sets of Paratrooper Outfit
Firestorm Ranger Set
Immediate access to 5 Battlefield 1 weapons
Standard Edition Special Assignments
Deluxe Edition
Edit
Battlefield V
Early Access to Open Beta
Three days early access on November 16, 2018
Six sets of Paratrooper Outfit
Firestorm Ranger Set
Immediate access to 5 Battlefield 1 weapons
Deluxe Edition Special Assignments
20 Weekly items with the Airlift System, contained cosmetic customization items only and will be the same for all recipients.[11]
The "V" in Battlefield V was confirmed by the Official Battlefield Twitter to represent 'V for Victory'. This phrase was popularized by

Winston Churchill

as a rallying emblem during WWII.[12]
The original release date was October 11, 2018 for EA Access and Origin Access members, October 16, 2018 for Deluxe Edition and October 19, 2018 for worldwide release.[13]
Logo & Key Art
Edit
Promotional Art
Edit
Concept Art
Edit
Screenshots
Edit
Miscellaneous
Edit
References
Edit