This article is a stub. It is short and in need of expansion. Why not help out?
This article is currently under construction. It may contain little or inaccurate information.
Incoming!
The subject of this article is a recent or unreleased addition to a Battlefield game. It may contain speculation or errors.
Have new, relevant information to add? Why not help out?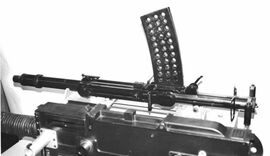 The
Becker Type M2 20mm Cannon
was an automatic cannon produced by Becker Steelworks of
Germany
. It was used during
World War I
by a variety of aircraft such as the
Gotha G.IV
. It was succeeded by the Oerlikon 20mm cannon, used to this day.
Battlefield 1
Edit
The Becker Type M2 appears as a ground attack cannon for aircraft, fitted on the Airship L30 and Gotha G.IV. It uses explosive ammunition fed from a top-mounted magazine, although the user is effectively given infinite ammunition limited only by overheating.
Vehicles of Battlefield 1
Light tanks
Heavy tanks
Landships
Light vehicles
Heavy vehicles
Fighters
Bombers
Attack planes
Emplacements
Torpedo boats
Behemoths
Other