This article is a stub. It is short and in need of expansion. Why not help out?
This article is currently under construction. It may contain little or inaccurate information.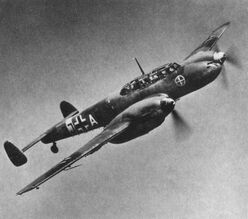 The
Messerschmitt BF 110
 was a German multi-purpose combat aircraft used during World War II. Primarily used as a heavy fighter, the BF 110 was designed in the 1930s and entered service in 1937. Approximately 6,170 were built.
Battlefield 1942
Edit
The BF 110 serves as the Italy's main medium bomber in the Battlefield 1942: The Road to Rome expansion and is their equivalent to the Allied de Havilland Mosquito. It is crewed by two people; a pilot and a rear gunner. The pilot can use both machine guns and bombs.