This article is currently under construction. It may contain little or inaccurate information.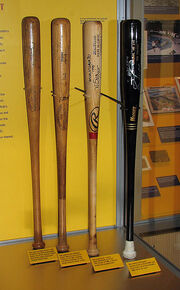 A blunt instrument is any solid object used as a weapon, which damages its target by applying direct mechanical force, and has no penetrating point or edge, or is wielded so that the point or edge is not the part of the weapon that inflicts the injury. Blunt instruments may be contrasted with edged weapons, which inflict injury by cutting or stabbing, or projectile weapons, where the projectiles, such as bullets or shot, are accelerated to a penetrating speed.
Blunt instruments typically inflict blunt force trauma, causing bruising, fractures and other internal bleeding. Depending on the parts of the body attacked, organs may be ruptured or otherwise damaged. Attacks with a blunt instrument may be fatal.
Battlefield 1943
Edit
Main article: Wrench

The Wrench is a blunt weapon featured in Battlefield 1943.
Battlefield Hardline
Edit
See also Breaching Hammer, Sledge Hammer, and Collapsible Baton.
Blunt weapons are the default melee weapons featured in Battlefield Hardline. Unlike other melee weapons such as knives, blunt weapons will incapacitate those that are struck from behind with a Handcuff Takedown though they do become lethal with normal strikes.
A golden variant of the Gold Club, Crowbar, and Lead Pipe may be obtained through completion of Syndicate Assignments. While functioning identically to their normal counterparts, kills obtained with the golden variants are counted separately from the normal machete and may be used by both factions.
Normal Blunt Weapons
Edit
| | | | | |
| --- | --- | --- | --- | --- |
| Image | Name | Description | Information | Unlocked |
| | Police Baton | Use as a melee weapon to bludgeon enemies and smash windows. | Exclusive to Law Enforcement | Default |
| | Baseball Bat | As American as it gets, the classic wooden baseball bat makes a fine improvised weapon. Useful for hitting pop flies or well ... use your imagination. | Exclusive to Criminals | Default |
| | Crowbar | This is a tool that consists of a metal bar with a single curved, flattened end flattened points. Crowbars are often used for burglary, or otherwise getting into a place you're not supposed to be. | Exclusive to Criminals | Battlepack |
| | Lead Pipe | A short length of heavy, metal pipe used as an improvised bashing weapon. Useful for looters, rioters, and other criminal types. | Exclusive to Criminals | Battlepack |
| | Blackjack | A wooden club of less than arm's length with a weighted end, the blackjack is particularly useful for taking down recalcitrant opponents. | Exclusive to Law Enforcement | Battlepack |
| | Nightstick | A club of less than arms length fashioned out of wood. Typically carried for forced compliance or self defense by law enforcement officers. | Exclusive to Law Enforcement | Battlepack |
| | Golf Club | Usually seen in the hands of the well off and sporting types, the golf club makes a fairly decent improvised weapon for bashing foes. | Exclusive to Criminals | Battlepack |
Golden Blunt Weapons
Edit
| | | | | |
| --- | --- | --- | --- | --- |
| Image | Name | Description | Information | Unlocked |
| | Gold Golf Club | Usually seen in the hands of the well off and sporting types, the golf club makes a fairly decent improvised weapon for bashing foes. | | Completion of the Black Hat Syndicate Assignment |
| | Gold Crowbar | This is a tool that consists of a metal bar with a single curved, flattened end flattened points. Crowbars are often used for burglary, or otherwise getting into a place you're not supposed to be. | | Completion of the Water Vehicle Syndicate Assignment |
| | Gold Lead Pipe | A short length of heavy, metal pipe used as an improvised bashing weapon. Useful for looters, rioters, and other criminal types. | | Completion of the Gun Syndicate Assignment |