This article is a stub. It is short and in need of expansion. Why not help out?
This article is currently under construction. It may contain little or inaccurate information.
Incoming!
The subject of this article is a recent or unreleased addition to a Battlefield game. It may contain speculation or errors.
Have new, relevant information to add? Why not help out?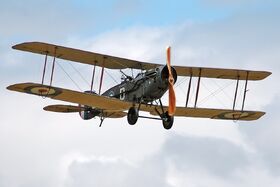 The Bristol F.2 was a biplane fighter designed in Britain and used during World War I. Despite having two seats, the robust construction and powerful engine allowed it to carry out aerial maneuvers on par with single-seat fighters, with its agility earning it a favorable reputation that kept it in service into the 1930s.
The F.2B first saw combat during the Battle of Arras in April 1917 - a month known as "Bloody April" where aircraft losses were extremely high. After this time pilots began to recognize the strengths of the F.2 and fly accordingly. 5,329 aircraft of this type were produced between 1916 and 1927.
Battlefield 1
Edit
Tank Hunter Attack Plane
Main weapon
57mm Nose Gun
Main weapon ammunition per reload
5 shells
Secondary weapon
50kg Bomb ×2
Countermeasures
Wing Repair
The Bristol F2.B is featured in Battlefield 1. It was first seen during the EA Play livestream. A more detailed view from the cockpit and of the F2.B in combat is shown in the Battlefield 1 Gamescom Trailer. The F2.B appeared in the Customization screen during the Open Beta, but was not used in the field.