This article is a stub. It is short and in need of expansion. Why not help out?
This article is currently under construction. It may contain little or inaccurate information.
Incoming!
The subject of this article is a recent or unreleased addition to a Battlefield game. It may contain speculation or errors.
Have new, relevant information to add? Why not help out?
For the Codex Entry, see British Bulldog (Codex Entry)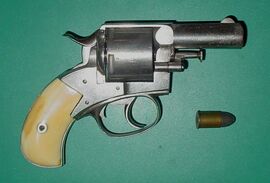 The
British Bull Dog
was a popular type of solid-frame pocket revolver introduced by Philip Webley & Son of Birmingham, England in 1872 and subsequently copied by gunmakers in Continental Europe and the United States.
[1]
Battlefield 1
Edit
"It has been argued that the British Bull Dog Revolver was the actual Gun That Won The West. It was a popular and widely copied style of short barrelled revolver."
— In-game description
The
Bull Dog Revolver
is a weapon featured in
Battlefield 1
.
[2]
It is only available for the
Support
kit.
The Bull Dog fills the role of high-damage, low rate-of-fire pistol for the Support kit. Compared to the Gasser M1870, the Bull Dog has a somewhat higher rate of fire but an extremely long reload of more than 9 seconds.
References
Edit
Ad blocker interference detected!
Wikia is a free-to-use site that makes money from advertising. We have a modified experience for viewers using ad blockers

Wikia is not accessible if you've made further modifications. Remove the custom ad blocker rule(s) and the page will load as expected.