This article is a stub. It is short and in need of expansion. Why not help out?
This article is currently under construction. It may contain little or inaccurate information.
Incoming!
The subject of this article is a recent or unreleased addition to a Battlefield game. It may contain speculation or errors.
Have new, relevant information to add? Why not help out?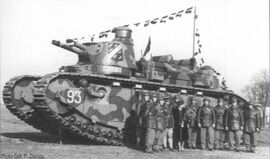 The FCM Char 2C was a French super-heavy tank developed by the Forges & Chantiers de la Méditerranée shipyard during World War I. The French's answer to the British Mark V Landship, the Char 2C was a massive and extremely heavy tank designed to break through enemy fortifications and cross directly over trenches. However, due to development issues and the much cheaper FT-17 tank already being in French service, the Char 2C was not completed until after the war in 1921 and only 10 units were created. The Char 2C was armed with a 75mm main gun and 4 secondary Hotchkiss 8mm machine gun ports.
Heavy, slow, and vulnerable to advancements in anti-tank weapons, the Char 2C quickly became obsolete during the 1930s, and the few units created saw use only as propaganda tools for the French during World War II before being destroyed or captured by Germany during the Battle of France. Weighing 69 tons fully loaded, the Char 2C is notable as the first super-heavy tank created, and the only one to ever see operational use in any capacity.[1] [2]
Battlefield 1
Edit
Char 2C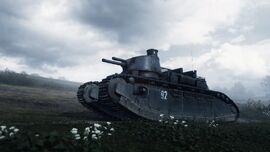 "Spawn into the Char 2C tank and control an epic new behemoth. Based on the real-world French tank, this super-heavy beast may turn the tide of the entire battle."
— Battlefield.com Description
The Char 2C is a Behemoth featured in the Battlefield 1: They Shall Not Pass expansion.[3]
The Char 2C featured in game is the Provence, the second Char 2C produced, denoted by the 92 painted on the hull.
The Char 2C's appearance in Battlefield 1 is anachronistic; although a prototype known as the FCM 1A had been completed in December 1917 in reality, said prototype was scrapped shortly after creation and had several design differences from the final Char 2C.
References
Edit
Ad blocker interference detected!
Wikia is a free-to-use site that makes money from advertising. We have a modified experience for viewers using ad blockers

Wikia is not accessible if you've made further modifications. Remove the custom ad blocker rule(s) and the page will load as expected.