Cogwheel Club is a Codex Entry featured in Battlefield 1, introduced in the They Shall Not Pass expansion. It is unlocked upon obtaining ten kills with the Cogwheel Club.
THE COGWHEEL CLUB
Edit
THEY SHALL NOT PASS
Edit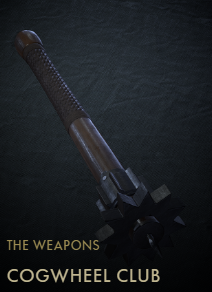 As soon as it becomes clear that the rifle was not the best weapon for close combat fighting in the trenches, soldiers looked to the revolver and later the shotgun. But their drawback was that they alerted the enemy during trench raids. Learning from their medieval predecessors they armed themselves with an array of primitive weapons such as this club.
Ad blocker interference detected!
Wikia is a free-to-use site that makes money from advertising. We have a modified experience for viewers using ad blockers

Wikia is not accessible if you've made further modifications. Remove the custom ad blocker rule(s) and the page will load as expected.