Coming Together is a Codex Entry featured in Battlefield 1. It is unlocked upon collecting all Field Manuals in the chapter O La Vittoria in the Avanti Savoia! singleplayer mission.
Transcript
Edit
ALLIED UNITY IN THE MOUNTAINS
Edit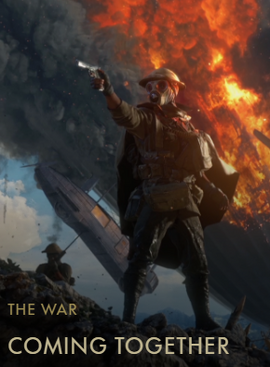 Troops were moved to support the needs of the entire allied war effort. This effort was adapted to where it was needed the most. During the spring of 1918 around 40,000 Italian soldiers were sent to help out on the western front, where they fought well. When the time had come for Italy to start its final offensive British, French and a smaller number of American units came to aid.
"WITHOUT THE PRESENCE OF YOU AND YOUR TROOPS THERE WOULD HAVE BEEN NO VITTORIO VENETO," SAID THE DUKE OF AOSTA IN ACKNOWLEDGEMENT OF ALLIED HELP AT THE FINAL ITALIAN VICTORY.
Edit
The British forces had penetrated further than planned and helped the Italian center attack to succeed. Today these events are barely remembered.
Ad blocker interference detected!
Wikia is a free-to-use site that makes money from advertising. We have a modified experience for viewers using ad blockers

Wikia is not accessible if you've made further modifications. Remove the custom ad blocker rule(s) and the page will load as expected.