Commo Rose
Talk

4
1,693pages on
this wiki


The Commo Rose is a feature in Battlefield 2 and Battlefield 2142, and is in the PC version of Battlefield 3. By pressing and holding the Q button on the keyboard, the Commo Rose is brought up, with several options being displayed in a ring around the "Spotted" option.
The Commo rose allows a player to quickly send pre-set messages to other players, faster than the original method of sending messages and spotting, which was via the function keys. One need only click one of the options in order to send a message. The Commo Rose is helpful for players who don't have headsets with microphones.
Some commands cause icons to be displayed for teammates, alerting them of your need.
The Commo rose presents a few different options for players in vehicles. In addition, a second Tactical rose offers squad-related messages. It can be accessed by pressing and holding T on the keyboard.
Commo rose messages
Edit
Roger That
Negative
Thank You
In vehicle
Edit
Get In replaces Need Pickup
Need Repair replaces Need Medic
==Bail Out replaces Follow Me==
Tactical rose messages
Edit
Tactical rose messages may result in special icons for the commander if requested by a squad leader.
Commander rose messages
Edit
These special commands allow a Commander to place orders or assets at a specific location:
Battlerecorder messages
Edit
During a BattleRecorder playback, a special rose offers playback commands.
Battlefield 2
Edit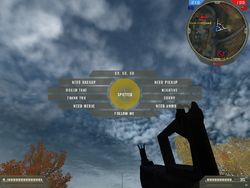 The commo rose was first introduced in Battlefield 2 with American, MEC, Chinese, Russian and EU Voices, depending on the playing faction or settings.
Battlefield 2142
Edit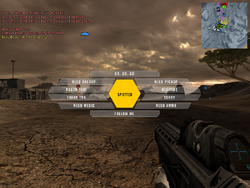 The commo rose returned in Battlefield 2142 with EU and PAC voices with the same commands like in Battlefield 2 but with different looks.
Right-clicking the "Spotted" message brings up a list of infantry roles and vehicles, allowing hidden threats to be warned against, or for minor griefing.
Battlefield 3
Edit
The commo rose is refined in
Battlefield 3
, and is stacked
with the
Spotting
feature. Commands related to
support actions
are taken off the rose and made available when not sighting an enemy, allowing players to request aid more quickly. Players can also offer support if they have an appropriate gadget equipped.
It was hinted by Alan Kertz in an interview with MP1st that Commo rose might be added into console versions of Battlefield 3 in a future patch[1]; Tomas Danko, sound producer at DICE, also confirmed that commo rose would be improved for PC purchasers of Battlefield 3 in an upcoming February patch.[2]Though, it came out one month later instead in the 1.04 Patch.