Conquer Hell is a Codex Entry featured in Battlefield 1. It is unlocked upon the completion of Operation Conquer Hell in the Operations gamemode.
Transcript
Edit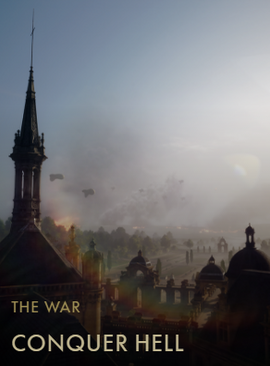 The Allies' 'One Hundred Days Offensive' began with the Battle of Amiens. Their objective was to capture the vital railway hub at Sedan, beside the Meuse river. This location was vital for the German Army to move supplies and support to its forces north of Verdun.
The job of taking Sedan fell to the fresh American troops, under the command of General "Black Jack" Pershing, and to the French. They would supply artillery, tanks, and air support. The Germans held on grimly, but with their reserves dwindling they had no choice but to withdraw. By November 5th, Allied artillery was within range of the railway lines.
With 1.2 million American soldiers involved, the Meuse-Argonne Offensive is to this day the largest battle in United States military history. Though a success, it was enormously costly. The fighting in the heavily fortified terrain of the Argonne Forest has been described as "hell on earth" and, for the Americans, it was the bloodiest battle of the war.
Ad blocker interference detected!
Wikia is a free-to-use site that makes money from advertising. We have a modified experience for viewers using ad blockers

Wikia is not accessible if you've made further modifications. Remove the custom ad blocker rule(s) and the page will load as expected.