Crouch
Talk

0
1,695pages on
this wiki

This article is a stub. It is short and in need of expansion. Why not help out?
This article is currently under construction. It may contain little or inaccurate information.
The
Crouching Position
is a position for rifle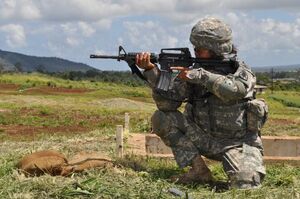 shooting. Crouching is a way for a player to have better accuracy and is a preferable firing stance as compared to simply standing up and firing, as well as making one a lower-profile target. However, movement speed and reaction time are lowered due to the increased duration of which it takes to turn around or escape from a firefight.
Crouching is available in all Battlefield titles along with standing.