Gun Customization
Talk

0
1,697pages on
this wiki

This article is currently under construction. It may contain little or inaccurate information.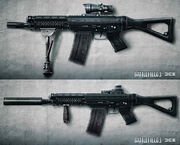 Customization is recurring feature in all major Battlefield games since Battlefield 2, with the exception of Battlefield 1943. It allowed the player to customize their soldier's kit with their own choice of weapons, and later, specializations.
Battlefield 2
Edit
Customization is a feature first implemented in Battlefield 2. It was simple and only allowed for the kit's primary weapon to be switched out.
Battlefield 2142
Edit
Customization returned in Battlefield 2142, allowing players to choose their primary weapon, two gadgets, their squad leader unlock, and their armor type.
Battlefield: Bad Company
Edit
Customization was featured again in Battlefield: Bad Company, albeit being similar to Battlefield 2's customization. It allowed players to choose their primary gun.
Battlefield: Bad Company 2
Edit
Customization was expanded Battlefield: Bad Company 2, allowing for the players to choose their primary and secondary weapon, two personal specializations, and one vehicle specialization. If the player had purchased the SPECACT upgrade, then camouflage patterns could be selected as well.
Battlefield 3
Edit
Customization is further extended upon in Battlefield 3. It allows for customization of up to three points on a gun, allowing for a wide variety of attachments to be equipped, ranging from high power scopes to tactical flashlights to bipods. It also allows for much more in-depth vehicle customization, allowing for countermeasures, optics, various armaments and so on. It also allows the user to change the camouflage pattern used on their uniform, assisting the player when confronted with various terrains.
The Premium DLC added the ability to apply camouflage to weapons. Some of these camouflages are available as unlocks via assignments.
A recent addition to Battlelog allows players to choose loadouts when not playing in a server, a feature widely requested on Get Satisfaction.
Battlefield 4
Edit
In Battlefield 3, accessories for gun loadouts may be cleared after playing in a Scavenger match. This has been observed in Battlelog with Cloud Save enabled in Origin.