For the Chinese copy of the modernized DP, see Type-53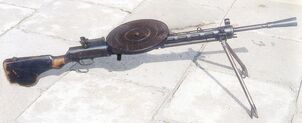 The DP-28 (Russian: Пулемёт Дегтярёвa; Degtyaryova Pulemyot; English: Degtyaryov's Machinegun) was a Soviet light machine gun designed by Vasily Degtyaryov in 1927. Though not very widely used by the Soviet Army, many DP-28 machine guns were used and produced by other countries such as Finland and the People's Republic of China (where it was designated Type-53) who then sold many units to the neighboring North Korea and North Vietnam. The DP-28 fired the 7.62x54mmR cartridge at a rate of fire around 550 rounds per minute from a 47-round pan magazine placed on top of the gun. It was commonly nicknamed the "record player" by the Red Army due to its pan magazine and rotating cover.
Battlefield 1942
Edit
The
DP
is a weapon featured in
Battlefield 1942
, issued to the
Red Army
Assault
kit. It has a 47 round pan magazine with two magazines to spare, a high rate of fire, high recoil, and moderate damage. It can be considered more effective than other Assault weapons in-game because of its high 47 round capacity, but it loses in terms of accuracy and recoil. Going prone or burst-firing is recommended for far-away targets as the accuracy can deteriorate quickly when standing up and the recoil can easily throw off a player from its target.
References
Edit