EOD Bot
Talk

5
1,948pages on
this wiki

An
EOD Bot
(
E
xpl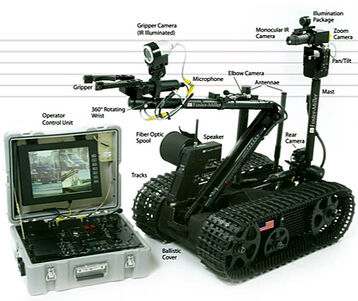 osive
O
rdnance
D
isposal Ro
bot
) is a small portable robot, usually mounted on tracks or wheels, that is used for the safe disarming/disposal of explosives such as mines,
Improvised Explosive Devices
and other dangers that would threaten a soldier's life. They benefit from their small size, allowing them to access difficult locations, but often can find themselves slowed by difficult terrain. The EOD Bot in
Battlefield 3
is clearly based on the
TALON EOD Robot
.
Battlefield 3
Edit
EOD Bot
Damage

8 per hit

Unlocked at

25000 Engineer score

Special feature(s)

Remote-controlled
Onboard Repair tool
EOD defusal
Monochrome day-vision camera
Can arm M-Coms

Kit

Engineer

Inventory slot

Gadget 2
"A remotely controlled Explosive Ordinance Disposal robot allows the engineer to repair and damage vehicles like a normal repair tool, but can also arm and disarm explosives and MCOM stations in Rush. "
— Battlelog description
The
EOD Bot
is available in the multiplayer of
Battlefield 3
, and is unlocked for the Engineer kit after earning 25000 points with that kit. It occupies the
Gadget 2
slot, shared with the
Repair Tool
and
M15 Anti-tank Mine
, and has to be deployed on flat ground, similar to the MAV. A special
minimap
icon shows the location of friendly EOD Bots, as well as spotted enemy EOD bots.
The primary roles of the EOD bot are to repair friendly vehicles, dispose of enemy explosives such as Anti-Tank Mines and Claymores, and to arm/disarm M-COM stations, as befitting the user's side. To do this, the EOD Bot is armed with a Repair tool.
The repair tool mounted on the EOD Bot can also be used to injure or kill opposing troops, which can be especially useful if trying to arm/disarm an objective, and are also able to spot enemies in the game. After the April 2012 server patch, the EOD Bot inflicts greatly increased damage against vehicles, but may not survive the vehicle's explosion.
The small size and speed of the EOD Bot makes it very useful for rushing to objectives, as it can move through secluded areas quickly, but the speed of the Bot is negated slightly by the loud motor noise of the Bot, and the fact that it is difficult to control, constantly oversteering at slower speeds and understeering at higher speeds. It also has very little armor to protect itself - it can be destroyed by one shot from either a SMAW or an RPG-7V2 rocket, and takes significant damage from small arms. However, like most vehicles, it can regenerate its health. It cannot be disabled, merely being destroyed in the first place.
The EOD Bot does not take fall damage whatsoever.[1]
HUD display
Edit
In the upper-left corner can be seen: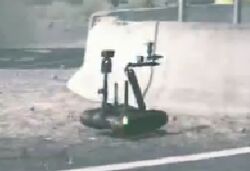 The vehicle's heading
GPS latitude and longitude
The actuator arm's elevation
In the bottom can be seen:
The time of day
Range in meters to crosshair target
Battlefield 4
Edit
This section is a stub. It is short and in need of expansion. Why not help out?

The EOD Bot makes a return appearance in Battlefield 4. It was first seen on the loadout screen for the game during Gamescom 2013 gameplay sessions.[2]
The EOD Bot can be used while it is underwater.[3]
Its stability has also improved since Battlefield 3, making it a more effective killer.
External links
Edit
References
Edit