ERYX
Talk

0
1,962pages on
this wiki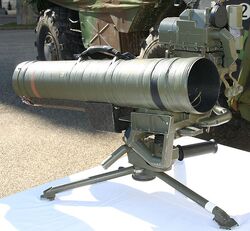 The
ERYX
is a wire-guided anti-tank missile launcher designed by European company MBDA in 1992. It is co-produced by France and Canada. It uses a 137mm diameter 3.6 kg tandem HEAT rocket. It has an operational range of 50 to 600 meters, and has a velocity of between 18 m/s (when it leaves the tube) to 245 m/s (when it reaches 600 meters). It is usually mounted on a tripod or on vehicles.
Battlefield 2
Edit
ERYX
Damage

125 (over 2 meter radius)

Damage multipliers

None

Unlocked at

Default weapon

Ammunition capacity

1 rocket

Reload time

9.12 Seconds

Recoil

None

Fire mode

Single Shot

Faction
Kit

Anti-Tank

Sound(s)
"The Eryx is a shoulder fired Short Range Anti-Armor Weapon which can be used to defeat all modern tanks."
— In-game description
The ERYX is issued as the default anti-tank weapon for the MEC and PLA Anti-Tank kits.
Battlefield 2: Special Forces
Edit
The ERYX is issued to MEC Special Forces and Spetsnaz Anti-Tank kits.
Performance
Edit
The ERYX is very effective against heavy vehicles, as well as light vehicles. When firing at a stationary target zoom in and line up the target and fire. Keep in mind that it is still guidable if the target moves. Hold down the fire button after firing to keep the view zoomed in for better accuracy. As with all launchers, aim for the vulnerable areas of tanks, and other enemy armored vehicles.
If firing at a moving target, the player must lead the target. The rockets can't turn and maneuver quickly so make any needed changes soon.
The ERYX has a slow reload time, so quickly fire a shot at the target and duck behind some cover. So if the player is defending a flag, and a tank rolls in, pop out of cover, fire, and duck behind cover when, or just before it hits its target. Never fire from the same spot twice, as all rockets leave a trail of smoke, which the tank driver can trace back to its point of origin and easily find the player.
Battlefield Online
Edit
The ERYX appears in Battlefield Online. Issued to the Russian Army.