FN57
Talk

0
1,934pages on
this wiki
This article is currently under construction. It may contain little or inaccurate information.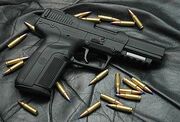 The FN Five-Seven is a semi-automatic pistol designed and manufactured by FN Herstal in Belgium. The pistol is named for its 5.7x28mm cartridge, the same one used in the FN P90.
Battlefield 4
Edit
FN57
Unlocks

Flash Light (10 kills)
Muzzle Brake (20 kills)
Ghost Ring (30 kills)
Compensator (40 kills)
Mini (RDS) (50 kills)
Laser Sight (60 kills)
Suppressor (70 kills)
Delta (RDS) (80 kills)
Heavy Barrel (90 kills)


Damage

22 - 12.1

Unlocked at

28,000 Pistol score

Ammunition capacity

20 + 1

Ammunition

5.7x28mm

Starting ammunition

42 + 21 rounds

Reload time

1.25 s (loaded)
1.4 s (empty)

Rate of fire

455 rpm

Velocity

430 m/s (unsuppressed)
260 m/s (suppressed)

Range

Maximum range

645 m

Recoil

0.7 up
0.1 left
0.1 right

Spread zoomed

0.5

Spread increase per round

0.2

Spread decrease per second

15

Fire mode

Semi-Automatic

Faction

All

Kit

All

Dog Tags

Inventory slot

Handgun
The FN57 is a Handgun featured in Battlefield 4.
The FN57 has the highest magazine capacity of any pistol at 20+1 rounds, and the second highest velocity, only behind the .44 Magnum. However, it has the lowest damage of any semi-automatic pistol, tied with the QSZ-92.
Its high rate of fire makes it useful for hip firing at close range, or placing multiple shots quickly while ADS. Unlike the M9 and P226, its recoil mainly kicks straight up, making a Compensator largely unnecessary.
A Laser Sight is useful for improving hipfire accuracy, while a Muzzle Brake can be used to help control vertical recoil if necessary. As with all pistols, the Ghost Ring Sight, Mini (RDS), or Delta (RDS) can be attached.