Flaregun
Talk

1
1,958pages on
this wiki

A
Flaregun
is a pistol-like device that shoots an incendiary
flare. Its main purpose is for signaling, as the lit flare is visible for miles, and can be supplemented with a drag chute that causes the flare to linger in the air longer. Flares can also be used at night, providing quick illumination of a wide area. The strong flame can also be used to ignite flammable materials from a distance, though the short barrel of the gun typically limits such use.
Battlefield Vietnam
Edit
The Flaregun was scheduled to make an appearance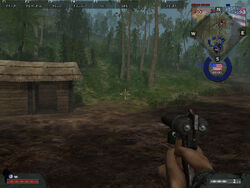 in
Battlefield Vietnam
. It still exists in the game files, and much like
Battlefield 2
's
LP7
, the weapon has working models, animations, icons, and sounds. When fired, its projectiles will pass directly through any character. When fired at vehicles, the flares will start a small fire which lingers suspended wherever the flare landed.
Battlefield Play4Free
Edit
In Battlefield Play4Free, a flaregun is used to Request Reinforcements, causing nearby recently killed friendly players to respawn on the user.