Flechette Ammunition
Talk

6
1,948pages on
this wiki

This article is currently under construction. It may contain little or inaccurate information.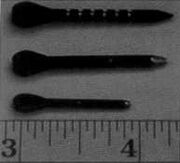 Flechette Ammunition is a special type of ammunition that uses small pointed steel projectiles that act like small darts. Flechettes consist of a pointed steel head with a long and vaned tail for stable flight. Flechettes can be used in a single round as a discarding sabot, or they can be grouped together in artillery weapons or shotgun rounds for anti-personnel use. The use of flechettes is limited due to the lack of effective use as a replacement ammunition due to the need for a sabot for a shot.
Battlefield 2142
Edit
In Battlefield 2142, the Clark 15B shotgun and Park 52 Sniper Rifle use flechette ammunition. Ammunition for BF2142 weapons is not changeable.
Battlefield 3
Edit
Flechette Ammunition
Damage

12.5 - 8.4 per pellets fired

Damage multipliers

2.40x for headshots

Unlocked at

20 kills with shotguns except for DAO-12, which requires Battlefield 3: Physical Warfare Pack.

Reload time

increases 870MCS empty reload speed to 1.30sec

Rate of fire

increases 870MCS to .55sec pump

Velocity

450m (except SPAS-12 and MK3A1=300m)

Range

14m - 30m

Special feature(s)

Improves penetration

11 darts SPAS-12

9 darts SAIGA12K

9 darts DAO-12

10 darts M1014

12 darts 870MCS

7 darts USAS-12

8 darts MK3A1

12 darts M26 MASS

Source of statistics
Inventory slot

Ammunition (Shotgun)
"Flechette rounds have increased penetration ability but a reduced damage potential compared to buckshot."
— Battlelog description
In Battlefield 3, Flechette Ammunition is the first unlockable ammunition type for shotguns (except the M26 MASS, for which it is the third). The rounds are stated to have increased penetration capabilities for shotguns, allowing a user to easily penetrate light cover and even other players. Though inflicting less close-range damage than 12 Gauge Buckshot, it inflicts more damage at longer ranges due to its decreased spread and lower dropoff.
Flechette ammunition was also a special pre-order bonus that is a part of the "Physical Warfare pack". It is available for use in the exclusive unlock DAO-12 shotgun that comes as a bonus in the pack as well (a Day 1 unlock, not an exclusive unlike the Type 88 LMG or Flash Suppressor). This ammunition is unlockable and can be used in other shotguns, but those who were fortunate enough to have this bonus will have had it from the start online. As of March 2012, the Physical Warfare Pack is unlocked free to all players.
References
Edit