This article is a stub. It is short and in need of expansion. Why not help out?
This article is currently under construction. It may contain little or inaccurate information.
Incoming!
The subject of this article is a recent or unreleased addition to a Battlefield game. It may contain speculation or errors.
Have new, relevant information to add? Why not help out?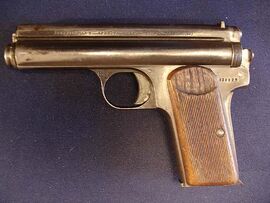 The Frommer Stop Auto is a semi-automatic pistol produced in 1912 by FÉG of Hungary. It was used throughout World War I and World War II by the Hungarian Armed Forces. Designer Rudolf Frommer adapted the design from another pistol that fired .32 ACP (7.65mm) from a seven-round detachable magazine.[1]
A carbine variant of the pistol lengthened the barrel to almost 10 inches, and extends the magazine to 15 rounds.
[2]
Battlefield 1
Edit

The Frommer Stop Auto in carbine form is featured in Battlefield 1 as a primary weapon for the Tanker and Pilot classes. It was first seen in the "Battlefield 1 Gameplay Series: Vehicles" video as a customization option.
References
Edit