G36C
Talk

24
1,957pages on
this wiki

For similar weapons, see G36K, G36E and MG36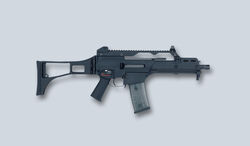 The
Heckler & Koch G36C
is a German carbine produced and manufactured by small arms designer Heckler & Koch. The weapon uses 5.56x45mm NATO rounds fed by non-standard translucent 30-round magazines, with a rate of fire of 750 rounds per minute. It is a variant of the original
G36K
carbine, which is solely based on the original G36.
Battlefield 2
Edit
G36C
Damage

25

Unlocked at

Tier One

Ammunition capacity

30 rounds

Reload time

4.1 seconds

Rate of fire

600

Recoil

0.2-0.4 (hip)
0.5 (zoomed)

Spread zoomed

0.15

Spread unzoomed

0.2 (Min)
0.3 (Standing)
0.24 (Crouched)

Fire mode

Fully Automatic
Semi-Automatic

Kit

Special Forces
"The G36C is the commando version of the G36 weighing 2.8 kilos and is only 500mm long when the stock is folded. In full auto mode it can fire 750 rounds per minute."
— In-game description
The G36C is the Tier One unlock for the Special Forces kit in Battlefield 2. It possesses lower spread than average, a moderate damage, an average firerate, and an average reload time. Like the QBZ-97, it lacks an optic.
Battlefield 3
Edit
G36C
Unlocks

Reflex (10 kills)
Laser Sight (20 kills)
Foregrip (30 kills)
Tactical Light (40 kills)
Holographic (50 kills)
Suppressor (60 kills)
ACOG (70 kills)
Heavy Barrel (80 kills)
Bipod (90 kills)
IRNV (100 kills)
Rifle Scope (125 kills)
M145 MGO (150 kills)
Flash Suppressor (175 kills)
Kobra (200 kills)
PKA-S (235 kills)
PSO-1 (270 kills)
PKS-07 (300 kills)
PK-A (350 kills)

Damage

25 - 14.3

Suppression

7.0%

Unlocked at

110,000 Engineer score

Ammunition capacity

30 + 1 rounds

Ammunition

5.56x45mm NATO

Starting ammunition

124 + 31 rounds (MP)

Maximum ammunition

372 + 31 rounds (SP)
217 + 31 rounds (MP)

Reload time

1.9 seconds loaded
2.85 seconds empty

Rate of fire

750 RPM

Velocity

500m/s

Maximum range

750m

First shot recoil multiplier

1.5x

Recoil

0.28 up
0.3 left
0.3 right

Recoil decrease per second

18

Spread zoomed

0.4 (static) 8.0 (moving)

Spread unzoomed

Standing: 2.0 (static) 2.5 (moving) Crouching: 1.5 (static) 2.0 (moving) Prone: 1.0 (static) 2.0 (moving)

Spread increase per round

0.1

Spread decrease per second

15.0

Fire mode

Full-automatic
Two-rounds burst
Semi-automatic

Faction

United States Marine Corps (MP)
Russian Ground Forces (MP)
National Gendarmerie (SP)

Kit

Engineer

Dog Tags
Source of statistics
Inventory slot

Main weapon



"A cut down version of the German Army's full size G36 rifle, the C in G36C is stands for Commando or Compact. Equipped with a number of rails for accessories and a set of backup iron sights instead of the integrated optics and carry handle of the G36, the G36C is a Carbine with significant customization options. Its great ergonomics and short length make it excellent in short range encounters. The G36C also includes a 2 Round Burst mode."
— In-game description
The G36C appears in Battlefield 3.
Singleplayer/Co-op
Edit
In singleplayer the G36C is used by the Gendarmerie in Comrades and The Eleventh Hour. It can be picked up only in Comrades.
Multiplayer
Edit
The G36C is unlocked after achieving 110,000 Engineer score. It has very average stats for a carbine, featuring a reasonably controllable recoil, average accuracy, and a typical carbine damage profile (25 to 14.3). Although it is controllable, the accuracy past 50m combined with the average fire rate and low damage makes it inferior to assault rifles and long range optimized carbines like the ACW-R and the SCAR-H . At closer ranges, the G36C has good handling traits, losing little accuracy on the move, and performing good as far as hip-fire, giving it an edge over assault rifles with similar fire rates. But, the 750 RPM fire rate will lose battles against higher rate of fire weapons such as the AEK-971, FAMAS, and the MTAR.
The G36C has bulky iron sights, which are out of focus. A large portion of peripheral vision is cut out, and the sight hole is small. This combined with the rather large front post make optics a preferable choice if desiring to use the G36C at range as the iron sights practically create a big blind spot at range. The holographic sight provides a good balance between zoom and accuracy, and the red dot sight specializing in close engagements.
Battlefield 4
Edit
This section is a stub. It is short and in need of expansion. Why not help out?
G36C
Damage

25 - 15.4

Ammunition capacity

30 + 1

Ammunition

5.56 × 45 NATO

Starting ammunition

124 + 31

Rate of fire

650 RPM

Range

Fire mode

Fully automatic
Burst
Semi-automatic

Kit

All Kits

Inventory slot

Primary Weapon
The G36C is a carbine in Battlefield 4 and was first seen in the killfeed of the Battlefield 4: "Paracel Storm" Multiplayer Trailer.
The G36C has one of the highest stability statistics of the carbines, but lacks in rate of fire. As a result, this weapon excels at long range combat but suffers greatly at close quarter battles.
This stability could be increased further using the Muzzle Brake, or the Compensator and the Angled Grip, or the Folding Grip. As an alternative, one could increase accuracy using the Heavy Barrel and the Stubby Grip or Potato Grip at the cost of some stability.
External links
Edit