Grappling Hook
Talk

0
1,948pages on
this wiki

A Grappling Hook
is a device with multiple hooks attached to a rope; it is thrown, dropped, sunk, projected, or fastened directly by hand to where at least one hook may catch and hold. Generally, grappling hooks are used to temporarily secure one end of a rope.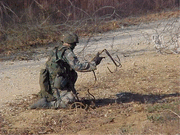 Battlefield 2
Edit
"The grappling hook can be thrown at and hooked on to any structure's horizontal edges. This allows players to climb up any building, as if on a makeshift ladder."
— In-game description
Grappling Hooks are used in Battlefield 2: Special Forces. They are available to the Assault and Anti-Tank kits of all factions. Grappling hooks are used to scale otherwise unclimbable buildings by pressing E and can be retrieved using the pick-up key (default: G) after use. They can also be used to descend buildings that are too low for the parachute to deploy properly, but where the height can still cause fall damage. When standing near a ledge, the Right Mouse Button can be used to just drop the rope from the ledge.
The throwing mechanism of grappling hooks is identical to the mechanism used for hand grenades, with Left Mouse Button launching a hook at full force, whereas Right Mouse Button allows the user to vary the force of the throw.
It is also possible to use the grappling hook to jump between buildings, as long as they are close enough.
The player can pick up the grappling hook while other players are using it to climb. While useful when an enemy is using it, one should be careful not to pick up friendly hooks.
As with the crossbow zipline, players cannot kill anyone with a grappling hook. Slinging it directly at someone does no damage whatsoever. Removing a line while someone is climbing that results in a fatal fall does not count as a kill.