HK21
Talk

1
1,957pages on
this wiki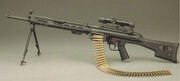 The HK21 is a general purpose machine gun made by German firearms company, Heckler & Koch. It, like many of H&K's weapons, is based on the successful G3 assault rifle. It is chambered in the 7.62x51mm NATO round is fed from a variety of disintergating belt ammunition. It can be modified to accept the G3's 20-round box magazine, or a 50-round drum magazine designed for the weapon. It has only been featured in Battlefield 2: Euro Force.
Battlefield 2: Euro Force
Edit
HK21
Damage

33

Unlocked at

Unlocked at start

Ammunition capacity

200 rounds

Reload time

7.1 seconds

Rate of fire

600 rpm

Recoil

0.25-0.45 (hip)
0.5 (zoomed)

Fire mode

Fully Automatic

Faction

EU

Kit

Support
"The HK21 is a general purpose, belt fed, large machine gun. It fires a 7.62 NATO round with a fire rate of 800 rounds per minute. This weapon may be used in either single shot or full automatic firing modes."
— In-game description
The HK21 is the standard light machine gun of the EU Support kit. It boasts a 200-round magazine, a moderate firerate, a low proned spread (although its standing and crouched spread are higher than others), as well as relatively high damage and a longer than average reload cycle.
The in-game description erroneously states that the HK21 has an 800 round-per-minute firerate when in fact it has only a 600 round-per-minute firerate.