HK53
Talk

3
1,698pages on
this wiki
Redirected from HK53A3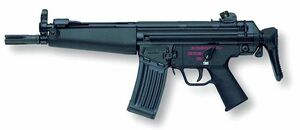 The HK53 is a carbine made by German firearms manufacturer Heckler & Koch. It is a variant of the HK33 assault rifle, and operates on the same principal as the G3 battle rifle and the MP5 submachine gun, but it is chambered in the 5.56x45mm NATO round and is fed from 30-round box magazines. It is featured in Battlefield 2: Euro Force, Battlefield Play4Free and Battlefield 3: Back to Karkand.
Battlefield 2: Euro Force
Edit
HK53A3
Damage

27

Damage multipliers

3 (head)
1 (torso)
0.7 (limbs)
0.66 (armor)

Unlocked at

Unlocked at start

Ammunition capacity

40 rounds

Reload time

4.3 seconds

Rate of fire

600 rpm

Recoil

0.4-0.6 (hip)
0.7 (zoomed)

Fire mode

Fully Automatic
3-round Burst

Faction

EU

Kit

Special Forces

Source of statistics
Sound(s)



The HK53A3 is the standard carbine issued to the EU Special Forces kit in Battlefield 2: Euro Force. It has moderate firepower, low recoil, and a decent rate of fire. It comes with a 40-round magazine, and can be fired either full-auto or in mechanical bursts, though there is no difference in terms of accuracy between the two.
Battlefield Play4Free
Edit
"The G53 is actually compact assault rifle design based on it's well known bigger brother, the G3 assault rifle design. It is chambered to fire the 5.56x45mm rounds giving it outstanding stopping power and reliable accuracy for a weapon of it's size making it a perfect companion for the Engineers who like to hit the front lines hard."
— Battlefield Play4Free Announcement
G53
Damage

Short range 26-24 (0-20m)
Medium range 24-20 (20-35m)
Long range 17-13 (35m - ∞)

Damage multipliers

2.1x Head
1.0x Body

Unlocked at

Level 27

Unlock cost

499 (one day)
2,999 (forever)
20,999 (before Level 27, forever)

Ammunition capacity
Starting ammunition

116

Maximum ammunition
Reload time

3.9 sec

Rate of fire

600 rpm

Velocity

650

Range

Maximum range

260 m

Fire mode

Fully automatic

Faction
Kit

Engineer

Inventory slot

Primary
The G53 is a primary weapon for the Engineer kit.
Battlefield 3
Edit
G53
Unlocks

Reflex (10 kills)
Laser Sight (20 kills)
Foregrip (30 kills)
Tactical Light (40 kills)
Holographic (50 kills)
Suppressor (60 kills)
ACOG (70 kills)
Heavy Barrel (80 kills)
IRNV (90 kills)
Rifle Scope (100 kills)
M145 MGO (125 kills)
Flash Suppressor (150 kills)
Kobra (175 kills)
PKA-S (200 kills)
PSO-1 (235 kills)
PKS-07 (270 kills)
PK-A (300 kills)

Damage

25 - 14.3

Suppression

7.0%

Unlocked at

After completing the "Fixing It" assignment

Ammunition capacity

30 + 1 rounds

Ammunition

5.56x45mm NATO

Starting ammunition

124 + 31 rounds

Maximum ammunition

217 + 31 rounds

Reload time

2.3 seconds loaded
3.2 seconds empty

Rate of fire

750 RPM

Velocity

450m/s

Maximum range

675m

First shot recoil multiplier

2.5x

Recoil

0.24 up
0.2 left
0.35 right

Recoil decrease per second

18

Spread zoomed

0.4 (static) 0.8 (moving)

Spread unzoomed

Standing: 2.0 (static) 2.5 (moving) Crouching: 1.5 (static) 2.0 (moving) Prone: 1.0 (static) 2.0 (moving)

Spread increase per round

0.1

Spread decrease per second

15.0

Fire mode

Full-automatic
Three-rounds burst
Semi-automatic

Faction
Kit

Engineer

Dog Tags
Source of statistics

http://symthic.com/?s=bf3 Retrieved Sept. 17th

Sound(s)

Original sound youtube width="155" height="25"http://www.youtube.com/watch?v=hwfdeQIWCFs </youtube>

Inventory slot

Main weapon
"Compact assault rifle developed in Germany. Based on the famous G3 design."
— Battlelog description
The G53 is a weapon added in Battlefield 3: Back to Karkand expansion pack. It features three-round burst, full, and semi-automatic fire modes, a moderate rate of fire, moderate damage, and a 30-round magazine capacity with four reserve magazines by default. It is unlocked when the player completes the Assignment "Fixing It" which consists of:
Performing 10 repairs
Killing 1 enemy using the Repair tool
The G53 in Battlefield 3 was called HK53 on the PlayStation 3 version until a patch changed the designation to G53, like the PC and Xbox 360 versions.
In Battlefield 3 the G3's receiver clearly has a fire selector for a 2 round burst mode but when selected in-game it fires in 3 round bursts.
In Scavenger, the G53 can be found with both a suppressor and a laser sight, a combination not normally obtainable, as both share the same attachment slot.
If you have Battlefield Premium, the Navy Blue Digital Camouflage and the Woodland Stripe Camouflage can be unlocked for the G53 by completing the G53 Specialist assignment.
External links
Edit
References
Edit