Hardcore
Talk

0
1,695pages on
this wiki

The
Hardcore
game mode is featured in several
Battlefield
games. The purpose of Hardcore mode is to provide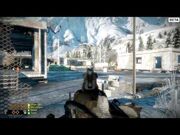 a more realistic war experience to the player. The gamemode appears in the multiplayer of
Battlefield: Bad Company 2
,
Battlefield: Bad Company 2: Vietnam
and
Battlefield 3
on all game modes.
Battlefield: Bad Company 2
Edit
In Battlefield: Bad Company 2, there are several concepts that make Hardcore a more realistic experience than a regular multiplayer game"
40 health, rather than 100
Team killing or "Friendly fire" is enabled
The lack of a in-game map that the player can view or use (Player can still use the map in the pause menu or toggle it on PC)
When spotting an enemy a red triangle does not show up above their head. Instead the player just shouts something like "Eyes on enemies", etc. This renders the Recon's Sniper Spotting Scope or Motion Sensors less effective, since it will only be seen on the map screen.
Guns don't have crosshairs. This includes emplaced machine guns but not the Tracer Dart and shotguns due to their unusable ironsights.
There is limited HUD, such as the lack of an AED spike indicator, which forces the players to use their instincts.
Hardcore elements do appear throughout Operation Aurora and in the level Airborne when the player needs to terminate Kirilenko.
Battlefield 3
Edit
Hardcore mode is once again present in Battlefield 3, acting similar to the mode featured in Battlefield: Bad Company 2. Players can select hardcore-mode servers from Battlelog or the in-game server browsers on consoles, just as players can select infantry-only servers.
The mode does however have some differences from its Bad Company 2 counterpart.
There is a minimap present. As of the October 11th server update, however, there is now a server option of removing the minimap on Hardcore, called "Hardcore no map".
Health is reduced to 60 rather than 100.
Visual bloodsplatter will fade, but health still does not regenerate.
Spotting an enemy will not cause a red marker on the players HUD, but will still show the enemy on the map.
You are unable to switch to third person view inside of vehicles.