Cut content
The subject of this article, Harrier, has been cut from the final version of a Battlefield game.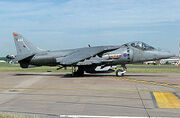 The Harrier (also known as the Jump Jet) is a family of fighter aircraft that were developed in the United Kingdom and exported to a number of nations, including the United States of America, where the USMC still use them. They are capable of Vertical/Short Takeoff and Landing (V/STOL) just like the F-35.
Battlefield 2
Edit
The Harrier was a cut vehicle that was to be included in Battlefield 2. The vehicle itself was completely deleted, although there is a line which refers to the vehicle in Battlefield 2's localization files which refer to the vehicle.
KILLMESSAGE_VEHICLE_harrier DELETED
Ad blocker interference detected!
Wikia is a free-to-use site that makes money from advertising. We have a modified experience for viewers using ad blockers

Wikia is not accessible if you've made further modifications. Remove the custom ad blocker rule(s) and the page will load as expected.