IR Smoke
Talk

0
1,693pages on
this wiki

For the similar BC2 Vehicle Specialization, see Smoke Countermeasures Package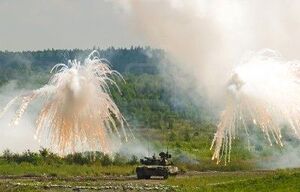 IR Smoke
is used by military forces to mask the movement or location of units such as infantry, tanks, aircraft or ships. The
smoke
provides screening even in the infrared electromagnetic region, unlike carbon emissions or fog.
Battlefield 3
Edit
"Smoke grenades enhanced with metal filaments that when launched remove laser-designation, spoof incoming guided missiles, and prevent enemies from revealing your position to teammates."
— Battlelog description
IR Smoke is a ground vehicle specialization available to Main Battle Tanks, IFVs, Mobile Anti-Air Vehicles, Mobile Artillery Vehicles and Tank Destroyers. It is their primary active countermeasure, activated by the Countermeasures button; when used by the driver, the vehicle is surrounded by a thick cloud of smoke, obscuring view and thermal imaging, scrambling weapon lock, distracting guided missiles, obscuring laser designation, and preventing spotting. Smoke is more comprehensive than the aerial equivalent, IR flares, as it distracts laser designation and protects the vehicle for as long as it stays within the smoke cloud, which lasts about five seconds.
Unguided weapons are unaffected by smoke and still have a chance of hitting the vehicle; nonetheless it is useful when retreating, obscuring the vehicle from view and making it harder to aim precisely. It also provides excellent cover for Engineers repairing the vehicle.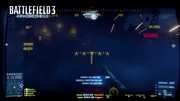 In all versions, a warning sound will notify players when they are being locked on and urge them to deploy countermeasures. It is best to deploy IR Smoke once the tone becomes a rapid high pitch staccato pulse, which indicates a guided missile is heading your way; the lock-on could just be a distraction.
Use of the smoke is the easiest way to avoid being killed by Javelins, and can help to some extent against Guided Missiles. Generally speaking, if a Javelin acquires a lock, firing smoke and sitting in the cloud until it dissipates can more or less nullify the missile, as it only takes two seconds after the smoke dissipates for the launchers to reload. Against aircraft, firing smoke and going stationary means the tank is an easy target for strafing runs, so rapid course adjustments and constant movement, coupled with firing smoke is probably the best approach.