The Infantry Support Weapons is a Codex Entry featured in Battlefield 1. It is unlocked upon obtaining ten kills with the AT Rocket Gun.
Transcript
Edit
A CANNON THE SIZE OF A DOG
Edit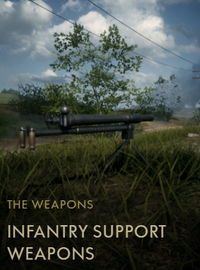 During the course of the war, a need for smaller portable guns that could engage strongpoints, bunkers and even vehicles grew. Sometimes these "mini-cannons" came equipped with a shield and their caliber could be as big as 37mm, which provided incredible power with armor penetration capabilities, but this came at the price of low mobility and cumbersome handling.
Ad blocker interference detected!
Wikia is a free-to-use site that makes money from advertising. We have a modified experience for viewers using ad blockers

Wikia is not accessible if you've made further modifications. Remove the custom ad blocker rule(s) and the page will load as expected.