| | |
| --- | --- |
| | This article is a stub as it is considered incomplete. Why not help out? |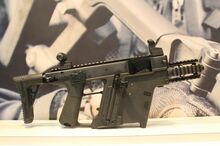 The KRISS K10 is a prototype submachine gun developed by KRISS USA, Inc., and announced at SHOT Show 2011. The K10 is an upgraded, second generation version of KRISS' Vector submachine gun line, and is built around the KRISS Super V System, which reduces recoil and barrel elevation while firing the weapon. The K10 is slightly more compact than the standard Vector, and features a telescopic stock, a downward cocking handle, and is intended to be multi-caliber. The K10 has not been displayed by KRISS USA since SHOT Show 2013, and its current production status is unknown.
Battlefield Hardline
Edit
The K10 is a submachine gun featured in Battlefield Hardline. It is a purchasable weapon for the Law Enforcement Mechanic, and has the highest rate of fire of any infantry weapon in the game at 1200 rounds per minute. The K10 also posses very tight hipfire and, coupled with its firerate, is very effective in close-quarters. However, to counterbalance the incredible time to kill with the weapon, the K10's ADS accuracy is very low, making it difficult to use outside of close range without tap-firing. It is equipped, by default, with a Laser Sight.
The K10's use in the game is incorrect, because the real KRISS K10 never made it past SHOT Show 2013, and seems to have been cancelled.
Trademarks on the left side of the K10's model say "TFIGS" in a similar style to the "KRISS" logo on the real K10. TFIGS probably stands for "Trigger Fingers".
Ad blocker interference detected!
Wikia is a free-to-use site that makes money from advertising. We have a modified experience for viewers using ad blockers

Wikia is not accessible if you've made further modifications. Remove the custom ad blocker rule(s) and the page will load as expected.