The L30 Airship is a Codex Entry featured in Battlefield 1. It is unlocked upon obtaining 10 kills with the Airship L30.
Transcript
Edit
THE L30 - A GIANT SHIP IN THE SKY
Edit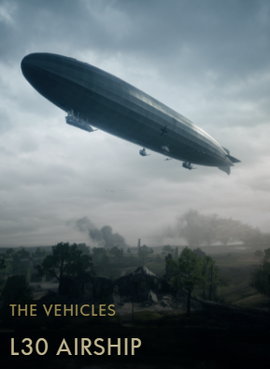 A crew of 22 manned this behemoth in the Great War. Participating in eleven missions, three of them air raids over England, the L30 was recognized as one of the "Super Airships" with a maximum speed of 96km/h (60mph). It was armed with up to ten machine guns and could carry up to 9,000lbs of bombs. Its strength was in altitude and endurance.
The L30, although superior to many airships that had previously participated in bombing raids, was shot down in September 1916 by a British pilot in a BE.2c interceptor who fired three drums of incendiary ammo into the body of the airship.
Ad blocker interference detected!
Wikia is a free-to-use site that makes money from advertising. We have a modified experience for viewers using ad blockers

Wikia is not accessible if you've made further modifications. Remove the custom ad blocker rule(s) and the page will load as expected.