L96A1
Talk

28
1,962pages on
this wiki

This article is currently under construction. It may contain little or inaccurate information.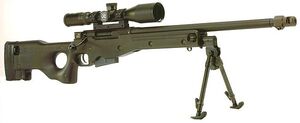 The L96A1 is a bolt-action sniper rifle created by the British company Accuracy International and fielded by British and German forces. The L96A1 is British designation of the standard AW rifle. The AW rifle has derivatives which can fire the 7.62x51mm NATO, .300 Winchester Magnum and .338 Lapua cartridges. In the Battlefield series, it fires the 7.62x51mm NATO cartridge.
It is featured in Battlefield Play4Free, Battlefield 2, and Battlefield 3.
Battlefield 2
L96A1
Damage

95

Unlocked at

Tier 2 unlock

Unlock cost

1 unlock point

Ammunition capacity

5 rounds

Starting ammunition

6 + 1 magazines

Reload time

5 seconds

Rate of fire

33 RPM

Recoil

4 - 5.2 hip
0.25 zoomed

Fire mode

Bolt-action

Faction

European Union (default)
All other faction: Tier two

Kit

Sniper

Source of statistics
Sound(s)

Inventory slot

Main weapon



The
L96A1
is a 2nd-tier unlock for the
Sniper Kit
. The
M95
is required for this unlock, but players can buy the
Battlefield 2: Special Forces
expansion pack to make unlocking it easier. It is also the default weapon for the EU's snipers. It is very comparable to the
USMC's
M24
in terms of fire rate, damage output, and accuracy. Accuracy and power is slightly better on the L96A1, but the M24 has a faster bolt-cycle rate and is faster to ready it. Despite this, many players prefer the L96A1 over the M24 because of its unique scope. The scope is very similar to the M24, but it has even slimmer lines, which is ideal for long range shooting.
Gallery
Battlefield Play4Free
L96A1
Damage

Short range 63-73
Medium range 58-62
Long range 48-50

Damage multipliers

2.1x Head

Unlocked at

level 24

Unlock cost

650 (one day)
95,000 (forever)

199 (one day)
2,999 (forever)
16,499 (before Level 24, forever)

Ammunition capacity

7 rounds

Maximum ammunition

3 magazines

Reload time

4 seconds

Rate of fire

50 rounds per minute

Velocity

425

Range

Short range 0-40m
Medium range 40-75m
Long range 75m+

Recoil

High

Fire mode

Bolt action

Faction
Kit

Recon

Source of statistics

Battlefield Play4Free gamefiles
This
L96A1
is a purchasable weapon in
Battlefield Play4Free
. It features large magazine, medium damage, fast reload and high rate of fire. It is unlocked at level 24.
Battlefield 3
L96A1
Unlocks

Rifle Scope
Ballistic Scope (10 kills)
Laser Sight (20 kills)
Bipod (30 kills)
Tactical Light (40 kills)
ACOG (50 kills)
Straight Pull Bolt (60 kills)
Suppressor (70 kills)
Holographic (80 kills)
Reflex (90 kills)
IRNV (100 kills)
PKS-07 (125 kills)
M145 MGO (150 kills)
PSO-1 (175 kills)
PKA-S (200 kills)
Kobra (235 kills)
PK-A (270 kills)

Damage

80 - 50

Damage multipliers

2.0(head)
1.25x (Chest)
.9 (legs)

Unlocked at

After completing the "Creeping Death" assignment

Ammunition capacity

10 + 1 rounds

Ammunition

7.62x51mm NATO

Starting ammunition

33 + 11 rounds

Maximum ammunition

55 + 11 rounds

Reload time

2.6 seconds loaded
4.8 seconds empty

Rate of fire

43.5 RPM

Velocity

540m/s

Range

2700m

Recoil

2.0 up
0 left
0 right

Spread zoomed

0 - 2.0

Spread unzoomed

5.0 - 7.0 standing
4.0 - 7.0 crouching
3.0 - 7.0 prone

Spread increase per round

1.2

Spread decrease per second

8.0

Fire mode

Bolt-action

Faction
Kit

Recon

Dog Tags
Source of statistics
Sound(s)
Inventory slot

Main weapon



"British made, high performance sniper rifle. Widely used across Europe."
— Battlelog description
The L96A1 is a sniper rifle in Battlefield 3 along with 9 other weapons available in the Back to Karkand expansion and made its first appearance in the "Strike at Karkand Gameplay Trailer." It has a faster reload but cycling the bolt is slower than with the SV98. The L96A1 in BF3 appears to be more "modern" than the variant seen in BF2 due to the shape of its barrel. The L96A1 rounds travel faster in the air and thus, the bullets drop less at longer ranges, giving it a somewhat similar bullet drop pattern to that of the M98B. It is unlocked after completing the Assignment Creeping Death. To complete the assignment, you need to get:
It is also worth noting that the L96 was the only bolt-action sniper that could mount a Flash Suppressor (Which is no longer an option as of the March 27th Patch for the PS3 and Xbox 360). When the Flash Suppressor was equipped onto the L96, the accuracy of the weapon, aimed or otherwise, was not affected at all, whereas on other weapons the Flash Suppressor did decrease accuracy. (Please note that after the 3/27/12 patch, the Flash Suppressor no longer reduces Aimed Accuracy on any weapon)
As of the recent large update, the L96 has had its damage changed and has a new chest multiplier of 1.25. This means that within its 80 damage range it will kill in one shot to the chest. It also means that in hardcore game modes, it will be able to kill in one shot to the chest at any range.
Before the Just 4th 2012 patch, the point of aim on the L96 was vertically offset (with the possible exception of some rifle scopes), due to a bug. This caused shots to be fired from a point above the center of the sight the player was using, throwing off one's aim. Now the iron sights should be properly aligned.
Battlefield Premium members can equip the Airman Camo for the L96, or the Digital Woodland Camo by completing the L96 Specialist assignment, though they are entirely optional and the differences are aesthetic only.
The L96 is the third best bolt action rifle in Battlefield 3 in terms of bullet velocity. It is beaten by the JNG-90 and the M98B.
Gallery
Videos
<videogallery id="0"> Video:Battlefield L96A1Wiki Video|Overview of the L96A1 in Battlefield 3 Video:Battlefield 3 - L96 Sound|Sound of the L96A1 in Battlefield 3 </videogallery>
External links
References