Laser Sight
Talk

2
1,692pages on
this wiki

This article is a stub. It is short and in need of expansion. Why not help out?
This article is currently under construction. It may contain little or inaccurate information.
T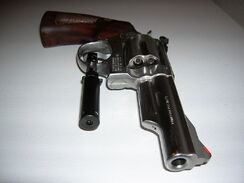 he laser has in most firearms applications been used as a tool to enhance the targeting of other weapon systems. For example, a
laser sight
is a small, usually visible-light laser placed on a handgun or a rifle and aligned to emit a beam parallel to the barrel. Since a laser beam has low divergence, the laser light appears as a small spot even at long distances; the user places the spot on the desired target and the barrel of the gun is aligned (but not necessarily allowing for
bullet drop
,
windage
and the target moving while the bullet travels).
Battlefield 3
Edit
Laser Sight

"The Laser Sight adds a visible laser aiming dot to the weapon which increases accuracy from the hip. The Laser Sight can dazzle enemies when turned on, but also reveals your position."
Attachment slot

Secondary

Available on

Assault Rifles
Carbines
Light Machine Guns
Sniper Rifles
Personal Defense Weapons
Shotguns
G17

Unlocked at

90 Kills (Assault Rifles)

20 Kills (Carbines)

20 Kills (Mag-Fed LMGs)
70 Kills (Belt-Fed LMGs)

20 Kills (Sniper Rifles)

20 Kills (Personal Defense Weapons)

80 Kills (Shotguns)

Default (G17)

Source of statistics

Battlelog (Kills)
The Laser Sight is a secondary weapon attachment in Battlefield 3. When attached to a weapon, it slightly improves weapon accuracy while hip-firing. Additionally, it can be used to blind targets when aiming at them, however it tends to reveal your position. This can be countered by turning the laser off using the Toggle Weapon Light key, at a cost to hipfire accuracy.
When equipped on the weapon the laser sight for the US side appears to be on the right hand side of the weapon very close to the barrel whereas on the RU side the laser sight is attached on the left hand side of the weapon closer to the scope/iron sights of the weapon as can be seen in the picture. The Laser Sight is also default attachment for the G17 (normal and suppressed). The P90 and PDW-R have a cosmetically different model for their attached laser sight, a tube connected by cable to a power supply.
PC players have the ability to keybind Toggle Weapon Light to the same key used for Zoom, allowing the laser to be turned off while aiming down sight.